No "I Can't Describe" by Jennifer Hudson (written by Pharrell and T.I. and produced by Pharrell) is not a cover of Evelyn King's "I'm In Love" (written and produced by Kashif) and I'm not making the case that there was some untoward "borrowing" of ideas and concepts, but what I am definitely stating for the record is that there is some influence going on here which in my estimation is a beautiful thing.
Let's be clear about one thing: we are all influenced by the music that we choose to take in. That's a musical truth and it runs across the entire musical gamut from "Classical" to latest greatest genre that all the cool kids are listening to(whatever that is).
"I Can't Describe" sounds to my ears like a tribute, a pastiche if you will to a very fertile period in R&B: the early 80's. A time where you had producers on the vanguard of incorporating cutting edge electronic technology with "traditional" music production elements. In productions like "I'm In Love" the purpose was very clear: give the listener something very funky, with a catchy hook that can get them on the dancefloor and keep them there. Kashif masterfully displays the art of getting the dancer on the floor and as a nod (if I were the type of person to patronize dancefloors I am not) I believe Pharrell has accomplished the same end.
"I Can't Describe" has a little bit of everything in it as far as the ingredients borrowed from influences: There's a little bit of Chaka Khan in the vocal production, a nod to the masters of writing bridges (which in recent decades has become a lost art form), and at the foundation a groove that reminds this writer of 1981 and a production sound from that time period that you immediately recognize as belonging to Kashif.
Influence can only happen with a sense of history. This is why we feel it is so important to support the latest ground breaking project from Kashif: The History of R&B Music When we know from whence we've come, we have the ability to reach back and honor those who paved the way. That's what this post about, that's what GFM is about and that's definitely a driving force of this historical film.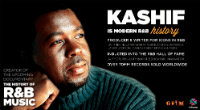 Ivan Orr is a multi-instrumentalist, composer, performer, and writer. A native of Charlottesville, Virginia Ivan was involved with the forming and nascent days of The Music Resource Center as its first Program Director. A graduate of Virginia Commonwealth University's Department of Music, Ivan currently resides in Richmond, VA where he maintains an active performance and production schedule while serving as the Music Editor for Grown Folks Music, a position he has held since 2010.