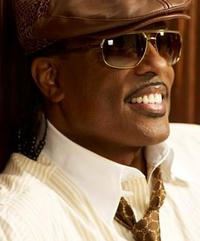 USA Today has a great article chronicling the journey of GFM fave Charlie Wilson's rise to success, dramatic fall and subsequent return to glory. It's an amazing, inspirational read and needs to be made into a documentary. TV One Unsung, are you listening?
In the meantime, check out the excerpt below and be sure to watch the Grammy's this weekend where he's nominated for best R&B album "Uncle Charlie" and best male R&B vocal performance for "There Goes My Baby". We want to congratulate him on his sobriety, cancer remission and his return to the top!
Much continued success to "Uncle Charlie"!
By Edna Gundersen, USA TODAY
HOLLYWOOD — "This building wasn't here," Charlie Wilson says, waving at a high-rise condo under construction along busy La Brea Avenue. "It was a parking lot for U-Hauls. I slept under them when it rained. So did a lot of other crackheads."
He brushes a tear from his cheek. Revisiting the haunts of his darkest days is distressing for the R&B legend, who led the Gap Band to international stardom in the '80s and rebounded to solo glory in recent years. In between lies a desperate stretch of addiction and homelessness that took the singer from a posh Hollywood Hills manse to seedy alleys.
Strolling a narrow road behind a pawn shop, he points to the grassy spot he frequently staked out while living on the streets from 1993 to 1995.
"I slept in that deep corner there," he says. "When I come through this area now, I get all tensed up. A lot of people who sink that far into depression, drugs and street life don't come back. A lot of people I knew then are dead."

Wilson, who turns 57 on Friday, did more than survive. He just had the most successful year of his 43-year career. The singer is up for two Grammys: R&B album for fourth solo effort Uncle Charlie and R&B vocal for hit single There Goes My Baby, which spent 10 weeks atop Billboard's adult R&B chart. The album entered the R&B chart at No. 1 and the pop chart at No. 2, a career peak. He's also nominated for an NAACP Image Award.
Continue reading this article.