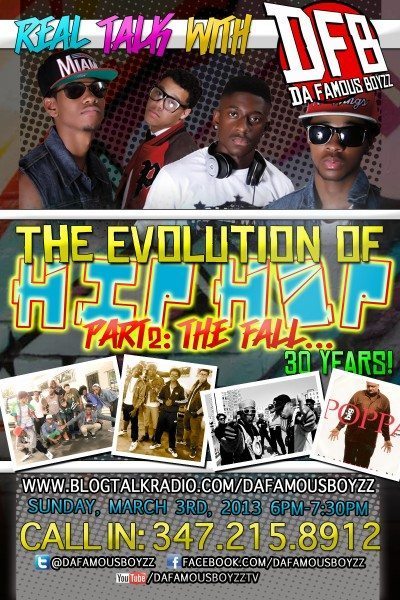 GFM fam one of the principles that has been at the core of our mission since the beginning has been the idea of using music as bridge between the generational gap. This Sunday ATL based Hip Hop Group Da Famous Boyzz on their weekly talk show "Real Talk" takes on the question of what contributed to demise of real Hip Hop across the mainstream landscape. This show is the second part in their three part series on The Evolution of Hip Hop. Make sure to tune in this Sunday at 6pm www.blogtalkradio.com/dafamousboyzz for what should prove to be a lively and informative discussion.
About Da Famous Boyzz
Da Famous Boyzz perform in a variety of venues for audiences of all ages. Whether its opening for legendary R&B artist Keith Sweat, serving as Grand Marshals and performing for the NAACP Martin Luther King Jr. Day Parade 2013, performing the pregame show for Atlanta Dream at the Philips Arena, hosting the NBAF & Turner Voices First Glance Teen Arts Competition, performing at churches, schools, festivals & events across the country, Da Famous Boyzz always bring their love and passion for music to life on stage. Their music is real, positive, and fun.