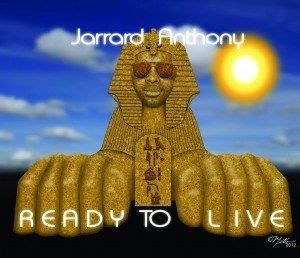 The third outing from Richmond, VA based and internationally known artist Jarrad Anthony Ready To Live brings to mind all the melodic and lyrical vibrancy associated with the first wave singer-songwriter school, embodied by the likes of Taylor, Mitchell, Morrison et al.
Storytelling at its finest, Ready To Live presents characters with character and depth, all who share the common thread of forward motion no matter the obstacles that they may endure: which, even includes the space time continuum of "Never See Her Again". Love may be at the center of it all here but make no mistake this set of music is not a "Moon, June, Spoon" ode to that emotion. No, Jarrad Anthony deals with the complexity of the emotion that more often than not is the catalyst for the creation of life both new and reborn.
Sonically, Ready To Live has an aural color-scape goes beyond just the primary and doesn't deal in the often banal grayscale. No, nuance is contained herein and so the ear is treated to aquas, fuchsias and much more. Lead vocals are front and center, with ample support from the chorus and unlike many productions where the vocals accompanying the track, the arrangements here put the instrumentation in the proper supporting role.
Jarrard Anthony has assembled some fantastic contributors for the project notably: Onaje Allan Gumbs("Lucky Day"), Lonnie Liston Smith ("I Love You") and an all-star crew for the remix to "Damn Sista" feat. Eric Roberson, Darien, Jon Bibbs and Wildmann.
The 14 track set is definitely one that will work well for the communal experience of food, friends and thought provoking conversation. As one of my favorite lines from "Lucky Day" states "Look to the skies and dream away… it's just the start of lucky day!" this writer has the feeling that as long Jarrard Anthony continues dream there will be many great projects like Ready To Live from his pen.
Ready To Live out June 19th.
Checkout the "Damn Sista" (Future Remix) right here!
To pre-order Ready To Live go here.

Ivan Orr is a multi-instrumentalist, composer, performer, and writer. A native of Charlottesville, Virginia Ivan was involved with the forming and nascent days of The Music Resource Center as its first Program Director. A graduate of Virginia Commonwealth University's Department of Music, Ivan currently resides in Richmond, VA where he maintains an active performance and production schedule while serving as the Music Editor for Grown Folks Music, a position he has held since 2010.