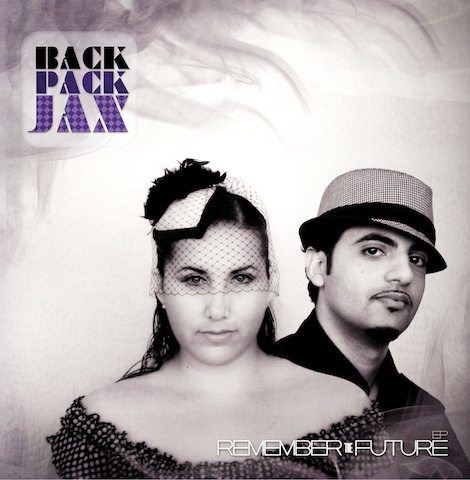 Editor's Note: The word in parentheses in the headline is not a typo. On October 1, 2011 I, Ivan Orr of sound mind and musical ears made a conscious decision not to do reviews anymore… only recommendations. It is in the spirit of a well-seasoned restauranteur that I envision making recommendations for those recordings that have a certain musical vintage that will be will suited for your collection.
I cannot tell you how appropriate I feel my little personal epiphany lines up with this recommendation of the Remember The Future EP from Backpack Jax who I had the pleasure of interviewing this past Summer.
For the uninitiated Backpack Jax are an international Hip Hop group based in France. Described as Al Green & Lauryn Hill's lovechild, and children of political refugees, Boogie Monsta (Iraqi Frenchman) & Mauikai (Cuban American) are 80's babies from opposite sides of the planet who were born & bred on golden era Hip Hop music like A Tribe Called Quest, De La Soul, Busta Rhymes and The Fugees. Their eclectic backgrounds offered up diverse inspirations, including some of music's greats like Stevie Wonder and Jazz legends Miles Davis and Nina Simone.
If you connect the dots between the musical influences outlined in BPJ's Bio you will come to understand what comprises their musical DNA. The most identifiable trait is Backpack Jax embrace of melody. I don't mean the type of melody that comes to mind so often today when we think of a "hook". No, I'm talking about melodies that have angles, a rise and a fall. Melodies that are every color of the spectrum: From the Burnt Orange of Fall("Not The End"), to North Sea Blue("The Spell"), Roy Ayers Everybody Loves The Sunshine Yellow ("Remember The Future") and many more shades of musicality.
Recorded in Miami, New York, Calgary and Nantes France the set is a cohesive well-mixed presentation of energetic, inventive and ultimately organic sounding arrangements. Boogie Monsta handled the majority of the instrumentation assisted on several tracks with some great playing by Florian Brunet on Cello and Bass, Djo on Scratches, Nicholas Herrouet on Bari Sax, Kevin Callo on Trumpet and Komlanvi on Guitar. Along with their collaboration on the writing and arrangements on the EP, Boogie Monsta and Mauikai collaborated on the mix on several tracks.
You have to checkout the narration by Lucien Etori on "Halfway There"(Intro) and "Not The End" Outro, his delivery serves as a call to attention on the intro and a call to action on the outro. In a word, splendid.
Backpack Jax are taking things to another level with their packaging. This is not some casual musical experience, no this is a committed musical relationship. Dig:
"The physical package will include (1) 12" "Remember the Future" Vinyl EP + Digital Download Code of the 10-track record in your choice of 320k mp3, FLAC, or just about any other format you could possibly desire. A bonus PDF booklet is also included in this package to be emailed at a later date with all lyrics, liner notes and more!"
This is the part where I come out the back of the restaurant and present you with the Remember The Future EP with a vintage date of October 4, 2011. The recommendation will cite that this is a group and brand to be on the lookout for… with the first offering being a refreshing mix of 2011 sonic sensibilities and golden era melodic hip hop in extended play format, we are anticipating that this offering will build a demand for future releases. Serve chilled.
Remember The Future out this upcoming Tuesday! For more information on the EP and Backpack Jax go here.
Ivan Orr is a multi-instrumentalist, composer, performer, and writer. A native of Charlottesville, Virginia Ivan was involved with the forming and nascent days of The Music Resource Center as its first Program Director. A graduate of Virginia Commonwealth University's Department of Music, Ivan currently resides in Richmond, VA where he maintains an active performance and production schedule while serving as the Music Editor for Grown Folks Music, a position he has held since 2010.