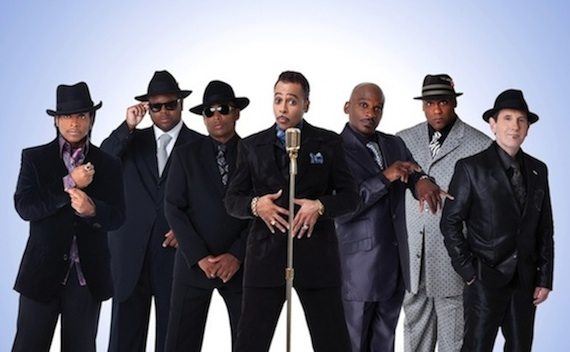 GFM Family you all ready know!!! If you haven't already peeped the official video for #Trendin press play below and after you have taken in all that musical goodness checkout the press release to get all the latest info on The Original 7ven (The Band Formerly Known as The Time). Condensate drops October 18th! We are extremely proud to have The Original 7ven as our Artist of the Month on GFM this month, Yesss!!!
Tickets for The Original 7ven Live at @clubnokia on October 19, 2011 in LA go on sale http://t.co/aRqJZgB5
Fairfax, VA (September 28, 2011) — Morris Day, Jesse Johnson, Jimmy Jam, Terry Lewis, Jellybean Johnson, Jerome Benton and Monte Moir revitalize the classic Minneapolis sound on their first new album together in 21 years. Condensate, due October 18th on SRR Records, features 14 brand new but instantly familiar tracks by the band formerly known as The Time. From their origins in the early '80s as Prince's first protégés led by the dynamic Morris Day, this seminal group continues to deliver groundbreaking funk-rock dance grooves as only they can. Today the Original 7ven remain a fascinating and outrageous musical congregation.
Now, for the first time since the '90s, all the original members of the band formerly known as The Time have reunited in the studio as The Original 7ven to deliver an authentic and unapologetically funky album of instant classics! Condensate has all the cool and swagger of earlier years and asserts funk-tastic confidence perfectly suited for today's audience. Endlessly entertaining, this new collection of 14 timeless grooves puts the "fun" back in funk!
The album name Condensate is taken from Morris Day's tongue-in-cheek comment, "I don't sweat, I condensate." "The studio was alive when we recorded. The energy and the fever, the skill and the fun – the fun – took Condensate to a whole new level."
School's in! The Original 7vens's music is fresh and wildly infectious," says Mike Jason, SRR Records Senior Vice President, Retail, "and all I can say is it was worth the wait!"
30 years ago, The Original 7ven musicians left crowds stunned and screaming for more when they took their funk/rock/pop sound on the road, led by the marvelously charismatic front man Morris Day. Formed in 1981, Morris Day, Jesse Johnson, Jimmy Jam, Terry Lewis, Jellybean Johnson, Jerome Benton and Monte Moir were legendary for enhancing their exciting funk/rock/pop Minneapolis Sound out of the studio and to the stage. When they previously performed as The Time, the group pulled frenetic energy and warmth from synthesizer-laden technology for their live concerts. Their brash, fresh and inventive talent has driven every single member of the band since then to innovative careers and success.
• Lead vocalist Morris Day is a triple threat performer of Stage, Screen, and
Television. He is also an accomplished drummer who played on many of The Time's
biggest hits. His singing career includes four albums with The Time as well as four
solo albums. Day wrote and produced the smash dance hit "The Oak Tree" and
followed that up with the #1 hit "Fishnet" with fellow alums Jimmy Jam & Terry
Lewis. Day continues to perform wildly popular concerts with Moir and Jellybean
Johnson.
• World class Guitarist Jesse Johnson, who co-wrote The Time's smash "Jungle
Love," also found critical and commercial success as a songwriter/producer working
with Janet Jackson, After 7, Paula Abdul and Chaka Khan. Johnson also contributed
music for film soundtracks including "The Breakfast Club, Pretty In Pink", "The 5
Heartbeats", and "A Time To Kill". His solo projects include, Jesse Johnson's Revue
1985, Shockadelica 1986, Every Shade of Love 1988, Bare My Naked Soul 1996, and
the critically acclaimed Verbal Penetration 2009.
• Keyboardist Jimmy Jam and Bassist Terry Lewis are five time Grammy award
winners who have more Billboard Hot 100 #1's than any songwriting/production
duo in music history. Recognized as one of the most innovative and successful
production teams in music, Jam & Lewis are responsible for an entire era of music
including Janet Jackson's string of hits, as well as recent songs by Usher, Mariah
Carey and Keyshia Cole.
• Keyboardist Monte Moir is a songwriter, singer, producer, and classically trained
musician who has written and produced a number of hits including Janet Jackson's
#1 smash "The Pleasure Principle" as well as Alexander O'Neal's classic "If You
Were Here Tonight". Other notable artists Moir has worked with include Gladys
Knight, Thelma Houston, Deniece Williams and Patti Austin.
• Drummer Jellybean Johnson has contributed his songwriting/producing and
Guitar skills on numerous hits. Most notably with Janet Jackson to create the #1
rock-driven anthem "Black Cat". Johnson also scored top charting hits with artists
including New Edition ("Crucial"), Alexander O'Neal ("Criticize"), Nona Hendrix
("Why Should I Cry") and Mint Condition's #1 smash "Breakin My Heart (Pretty
Brown Eyes)".
• Mirror & Percussionist Jerome Benton, (the half brother of Terry Lewis) is an
audience favorite for his playful interaction and delightful chemistry with Morris Day
onstage. As an actor he starred in Prince's films "Purple Rain" and "Under the
Cherry Moon" and stole scenes in music videos with Prince, Janet Jackson, Herb
Alpert, and most notably when he performed with The Time. Benton was also a
member of the group The Family and has written several scripts for the stage and
screen.
About SRR Records:
SRR (Saguaro Road Rhythm) is an R&B imprint of Saguaro Road Records, Inc.
Ivan Orr is a multi-instrumentalist, composer, performer, and writer. A native of Charlottesville, Virginia Ivan was involved with the forming and nascent days of The Music Resource Center as its first Program Director. A graduate of Virginia Commonwealth University's Department of Music, Ivan currently resides in Richmond, VA where he maintains an active performance and production schedule while serving as the Music Editor for Grown Folks Music, a position he has held since 2010.