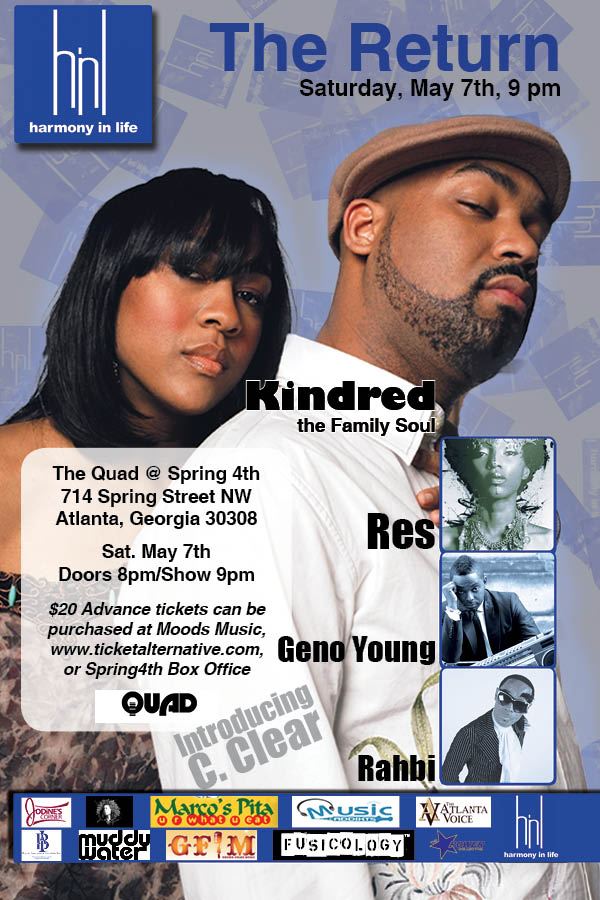 Are you a Kindred fan???? Would you like to see them in concert???
Well, here is your chance!! We are looking for the biggest fan in Atlanta to show us how well you really know Kindred. If you answer our trivia questions correctly and you're chosen from our drawing, you could win two (2) complimentary tickets to see Kindred the Family Soul along with special guests, Res , Geno Young and Rahbi , Saturday, May 7th at The Quad in Atlanta!  To quality, here are the guidelines:
All contestants who correctly answer the following three (3) questions, will automatically be entered into a drawing where one (1) winner will be chosen at random:
What celebrity couple's memoir were the inspiration for Kindred's 2005 Album In This Life Together?
Although most closely associated with Philadelphia, where does Aja Graydon call home?
Name a famous trio that Fatin Dantzler got his start in the music business as a writer for?
Along with your trivia answers, you must submit your name, email address and/ or mobile number to the following address: contact@GrownFolksMusic.com
Entries will only be accepted until Saturday, April 23rd 11:59pm (eastern standard time)
Only one (1) entry per person.
All entries must adhere to the guidelines or risk disqualification.
Contestants must be in Atlanta or the surrounding area and able to attend the show at The Quad located at 714 Spring Street, NW, Atlanta, GA 30308 on Saturday, May 7th at 8 pm.
The winner will be notified by email and/or mobile phone on Monday,  April 25th and provided with further information for ticket retrieval.
Good Luck…and we'll see you at the show!!!

Hope is a music enthusiast and continual student of photography. Also known to rock out a quiet church or elevator with her current ringtone, Tom & Jerry's Uncle Paco, "Crambone".