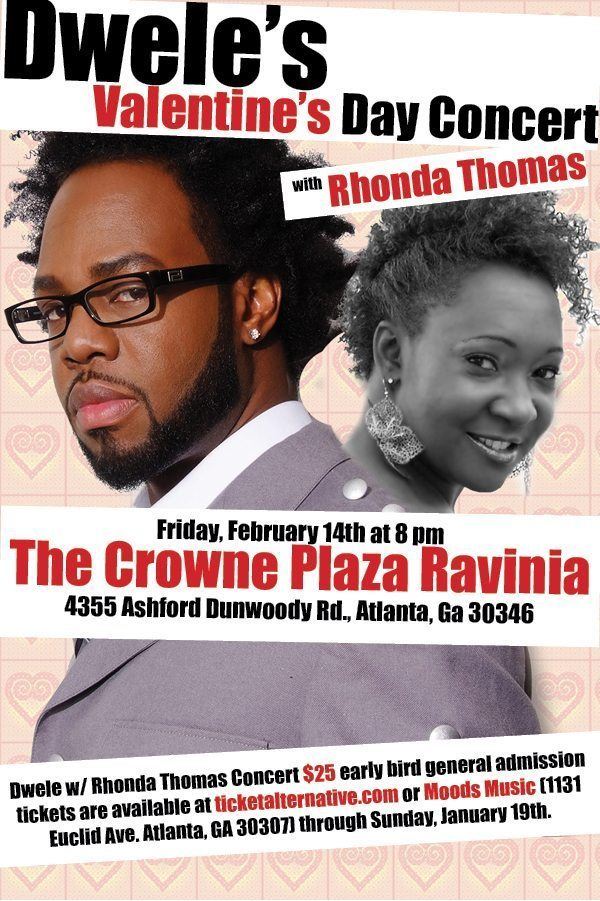 Ok, Atlanta, we have a very special Valentine's event we're sure you don't want to miss!!!! At 8pm, Friday, February 14, 2014 at The Crowne Plaza Ravinia, get cozy with the one you love and share a romantic evening of music with R&B/Soul artist, Dwele. Setting the mood and opening the stage will be soul vocalist, Rhonda Thomas bringing you music from her solo project. This Rick Cook Presents and Harmony In Life concert is only one part of an awesome Valentine's weekend that will also include events all over the hotel on Saturday, February 15th for singles and couples such as dance classes, relationship discussions, DJ Kemit's Romantic Lounge, movies and game nights, a jazz breakfast, and shuttles to Spa Sydell and the Perimeter Mall. Also later that evening at 8pm, be entertained by an intimate dinner and show with India Arie's bassist and leader of JIVA, Khari Cabral Simmons.  Vocalist Chantae Cann and Julie Dexter will also be performing with Khari's band.
$40 ROAM advance tickets gain admittance in both concerts and all other events.  Those tickets are available at www.ticketalternative.com or Moods Music (1131 Euclid Ave. Atlanta, GA 30307).
There are special ROAM Valentine's Weekend hotel rates of $99/ night for king bed or double beds which include breakfast and free parking.

Hope is a music enthusiast and continual student of photography. Also known to rock out a quiet church or elevator with her current ringtone, Tom & Jerry's Uncle Paco, "Crambone".