Grown Folks Music caught up to the R&B and Hip-Hop veteran, Angie Stone. She chatted with us about reinventing herself with her new music, her definition of being "Grown" and if she would do a reality TV show ever again. Read and enjoy.
GFM: You got a new album coming titled Dream. Tell us about the new album– the writing, the producing, if you have any features or things like that. What can we expect?
AS: The new album is titled Dream. It came about by way of Walter Millsap having a dream to work with Angie Stone. Of course I was about done and about to throw in the towel and he said, 'Wait, wait. One more. One more.' And the birth of the album began to take shape. Walter was very, very involved from start to finish. He hand picked everybody that worked on the project–Candace Nelson being one, Balewa (Muhammad) being another, and of course Walter himself. There is one feature with Dave Hollister that I'm really, really excited about.
GFM: I've heard some of the tracks, and I really like "Magnet". Who wrote "Magnet"?
AS: That's my favorite! Yes, yes, yes, yes, yes. [laughs] That is my favorite song so I'm glad you like it. It's haunting right? You can't stop singing it. Once you've heard it one time, it kinda grows on you. That song was written by all of us actually. It's a feel good record. What's your next favorite?
GFM: I like "2 Bad Habits", but I'm hoping" Magnet" might be the next single. You didn't ask me, but that's what I'm picking. It didn't even grow on me… I liked the way it sounded immediately upon hearing it.
AS: That first line, "It's like I got fool written on my forehead…" I believe that everybody can relate to that. One of my other favorites is "Did You Forget About Me" and also "Dollar Bill".
GFM: The tracks, to me, have a current yet retro feel about them. Is that intentional?
AS: I think they do. It's a cohesive weaving of thread with me being seasoned, experienced and having all of that and the Hip-Hop flair. The tracks have a very youthful, yet vintage sound about them that kind of grabs you between the seams because it does have a thread of that vintage life– that vintage world. But at the same time, when you hear these songs you can go back twenty years and say, 'This reminds me of this song.' It's kind of that thing that keeps Angie Stone reinventing herself. I wanted to do something that I've never done before. I think in this project you didn't just get a vintage Angie Stone. You got that cross between a great vintage and an up-to-date sound in the music as well.
GFM: What's your definition of Grown Folks Music?
AS: Folks that have been through life [and] who have lived a little longer than some and the experiences of life have grown them up. I have to say that because I think young people nowadays just don't get it. They don't get the fabric that is necessary to survive in life does not come with being so dependent on parents and friends. You have to walk through the fire, so to speak, to come out as a grown up and appreciate and relate to life in general.
GFM: Do you miss R&B Divas?
AS: R&B Divas was a life lesson for most, and a reflection to some I'm sure that can be viewed as good, bad or indifferent. For me it was a life experience, because it's one of the first times that I've actually been put in a position where I really am genuinely trying to help as many as I can, and throughout I felt like they were trying to hurt me. In doing so, I don't think they thought a moment about what it was doing to me as a human being. I think being a celebrity is one thing, but being a human being is far greater than just being a celebrity. Some of the things that were being said– shade that was being thrown– even for TV, it didn't make sense.
GFM: With that said, would you ever consider another reality TV offer?
AS: It all depends on what it is. I would definitely do a reality show that did not teeter or borderline on being ridiculed. Something dealing with health or something dealing with strengthening the body. I don't say that I would never do another one. It's just that I wouldn't do anything that would depict women as catty, or that we're irresponsible or ignorant in any way. I don't think that's a good look for any of us.
GFM: You mentioned earlier being seasoned in this industry and reinventing yourself as an artist. Today, who is Angie Stone?
AS: Angie Stone is a grown woman that has the very fiber of my past being Hip-Hop. I've come through the seams of a lot of situations. I've experienced and walked through life– now that I know how to play dodge ball very well. So, Angie Stone is a grown and sexy woman who knows how to play dodge ball.
Angie Stone's album, Dream drops November 6. Pre order it now at iTunes.
Connect with and follow Angie Stone on Twitter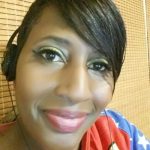 I ask questions of your some of your favorite artists.