To say that I love Al Green would be a huge understatement. His voice is what captivated me first from those high falsetto notes he's known for effortlessly reaching, to his soulful screams and shouts. Then it was his infectious pearly white smile. As a young girl I was smitten. I thought "That is one handsome man!" Most of the world knows Al Green's music when they hear it, and credit him with being one of the most influential soul singers and talents of our lifetime. With the help of his long time writing partner Willie Mitchell, he eventually found a style and sound that is uniquely his own. That is why there will only be one Al Green.
So why is Al Green love? For me, the answer is simple: It's because his music is born from love. This is a man who is in love with love, and he appreciates the spiritual connection that comes with it. All you have to do is listen to any of his songs and not only hear the love, but feel it. Al recognizes that God created within each of us the need for love and the ability to love. His lyrics are simple heartfelt poetry, love letters to not only that special man or woman in your life, but praise and thanks to the Almighty for blessing us with so much love. Look at the lyrics from his hit song L-O-V-E:
I can't explain this feeling
Can't you see that salvation is free
It's all in the heavens, can't you see
You can always depend on me
To give you love
I wish I could say that I know Al Green personally (lord knows I would pass out if I ever met the man), but I do feel like I know him through his music. I feel a connection to this very shy and complicated man. I too am in love with love, and recognize the Higher Power that is the source of true love. I thank Al Green for reminding us all of what is most important in life through his music: Love.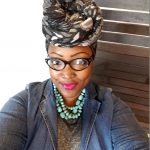 DJ CatEyez is just a lover of music who happens to be a wife, mother, Naturalista, baker, blogger, and wannabe biker chick. (Harley's RULE!) Check out her natural hair blog Going Back to my Natural Roots at 2dimplz.wordpress.com.