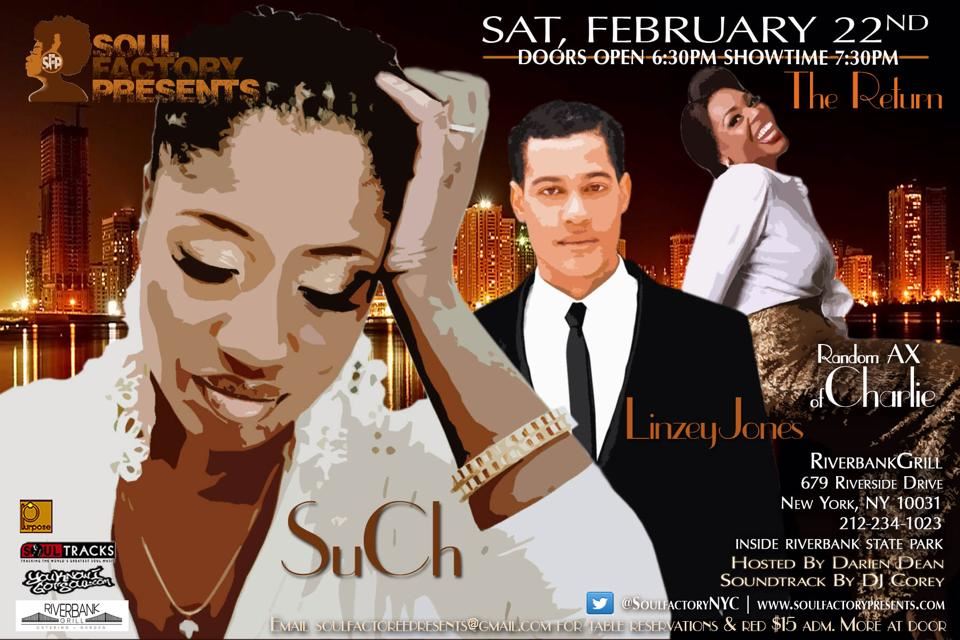 The Soul Factory is back!
Kicking off an amazing 2014 for the concert series is the dynamic SuCh, whose current single "Sugar Maple" is making noise across the country and she's arrived in Harlem, U.S.A. for a very special performance ahead of her upcoming album. That's right, "The Soul Factory Presents" has headed Uptown. On Saturday, February 22nd at 7:30 the 2014 season of soul begins at the beautiful Riverbank Grill (679 Riverside Drive, New York, New York 10031) and Grown Folks Music has your chance to win your way in.
That's right; GFM is sending you Uptown Saturday night. One lucky winner will win two tickets to check out SuCh, accomplished vocalist Linzey Jones and the multitalented Random Ax of Charlie. To enter our contest, visit Grown Folks Music on FaceBook for additional details. Winners will be notified Friday evening.
For those not willing to press their luck, there are still a limited amount of tickets remaining and can be reserved at reduced admission ($15) by reservation via e-mail (soulfactoreepresents@Gmail.com) and you're in the building for what promises to be an amazing night.
Check out "Sugar Maple" by SuCh in preparation for Saturday, as well as the sites for Linzey Jones and Random Ax of Charlie.