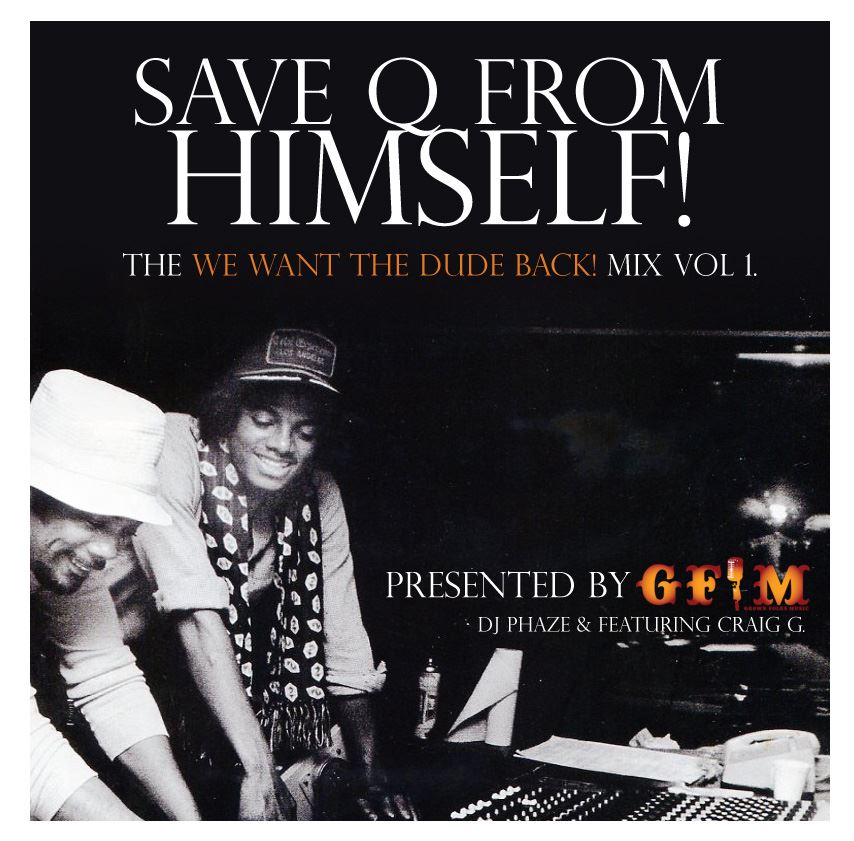 This is a celebration of the music of the Quincy Jones we know and love. Special shout out to Craig G. for blessing us with some heat and insight over top of a Quincy classic. DJ Phaze is on the mix and we hope you enjoy. You can download the mix by pressing the arrow button on the right side of the player.
The reason why we are doing this is because we hold the music of Quincy Jones in such a high regard. For more info on the upcoming project and a listing of the artists that will be featured go here. Also, after the jump take a listen to a clip of the updated version of "Secret Garden". Some secrets you should keep to yourself.
1. "Intro"
2. "GFM for Q" – Craig G
3. "Give Me The Night" – George Benson
4. "Rock With You" – Michael Jackson
5. "Yah Mo Be There" – Michael McDonald ft. James Ingram
6. "I'll Be Good To You" – Quincy Jones ft. Ray Charles
7. "Body Heat" – Quincy Jones ft. Leon Ware, Bruce Fisher
8. "One Hundred Ways" – James Ingram
9. "Human Nature" – Michael Jackson
10. "If I Ever Lose This Heaven" – Quincy Jones
11. "Samba De Una Nota So" – Quincy Jones & His Orchestra
12. "The Streetbeater" – Quincy Jones (Sanford and Son Theme)
13. "Ease On Down The Road #1" – Quincy Jones (The Wiz)
14. "Stuff Like That" – Quincy Jones
15. "Stomp" – The Brothers Johnson
16. "Off The Wall" – Michael Jackson
17. "Funk Outta My Face – Brothers Johnson
18. "Liberian Girl" – Michael Jackson
19. "Baby, Come To Me" – Patti Austin ft. James Ingram
20. "Tomorrow" – Tevin Campbell
21. "Summer In The City" – Quincy Jones
22. "Soul Bossa Nova" – Quincy Jones & His Orchestra
23. "Killer Joe" – Quincy Jones & His Orchestra
24. "Ai No Corrida" – Quincy Jones & His Orchestra
25. "Miss Celie's Blues" – Quincy Jones
26. "The Secret Garden" – Barry White, James Ingram, El DeBarge, Al B. Sure
27. "The Lady in My Life" – Michael Jackson
28. "Moody's Mood For Love" – Quincy Jones ft. Brian McKinght
29. "Reunion/Finale" – Quincy Jones (Colour Purple)
30. OutroFind more videos like this on Grown Folks Music
Oy!
Vey! Disclaimer: Q did not have anything to do with this production, but I can already imagine what "Strawberry Letter 23" is going to sound like by this clip.
Mr. Quincy Jones
3800 Barham Blvd., Ste. 503,
Los Angeles, CA 90068, United States
March 17, 2010
Mr. Jones,
This letter could not come from a place of more love and admiration. For as long as I can remember your music has provided part (a major part) of the soundtrack of my life. As a toddler I learned how to discern the different instruments of a song by listening to "The Streetbeater" every Friday night. As a preschooler I was enamored and intrigued with the sound and look of those great records for A&M. Honestly, I really believe before I could read, I could recognize the A&M logo and Quincy Jones. Then came elementary school and middle school with "Off The Wall", "The Dude" and "Thriller". "We Are The World" found me moving into full-fledged teenagedom and by the time "Bad" was released I thought I was ready to face the world after high school. "Back On The Block" I thought I was grown. "Q's Jook Joint" I really thought I was grown. At some point I got wise and realized that everyday I'm still growing, always something new.
At some point I made the decision (or someone made the decision for me)to pick up an instrument. Along that journey I discovered more of your work than I could have ever found left to my own resources. Dots began to connect for me in ways I couldn't have imagined. The same Quincy Jones of my youth worked with these titans of music that I now study in academia? Film Scores? Nadia Boulanger? Really? How? Then I realized something through your example: It's just music. The combination of Bb,D, and F gives you the same result no matter what genre of music you play. Mr. Jones you are the living embodiment of that concept for me because you have created all kinds of music, because you understand that at the end of the day, it's just music. That's a sign of a master of his craft.
You represent for me one of the greatest generations of musicians that this world has ever known. The fact that you have participated in the music industry at the highest level for sixty years is not lost on us mere mortals. Which is why as of late I have been given pause, and this is truly the impetus for this letter.
This is not a nostalgia piece. I believe in always pushing the music forward, it's very easy to go back and do what you've done because there is a certain amount of security there. Where my head and heart reside is in a place where I see some incongruencies and inconsistencies. If we wanted to take the math analogy a little further: If Quincy Jones=Music(which he does) then why are some of the variables in the equation not equal to music thus it would follow that the product…this has nothing to do with style, genre or otherwise. This has to do with artists being great enough to be in your presence and on your recording. In other words, I have no idea what the process was for choosing who appeared on "We Are The World 25" or the new Q:Soul Bossa Nostra but some of the players just should not have made the cut. Why? Because quite frankly mentioning some of the names and Quincy Jones in the same sentence does not even sound grammatically correct.
Mr. Jones your name has come to represent a lot of things for a lot of people. First and foremost your name represents the platinum standard in music. Not the platinum standard because of sales(although you've sold lots of them) platinum in the sense that your music has always represented a level of musical greatness, not just popularity. Your recordings have introduced us to some of the greatest performers and writers of any generation. We always knew with a Quincy Jones recording there would be something, someone that would be heading very soon to the next level. The alumni from your recordings are the music industry in my mind. But maybe herein somewhere lies the problem. Industry.
No, I'm not one of these the "Industry is evil" acolytes. I've seen enough evil in my life in many quarters to realize the music industry has not cornered the market on evil. I also realize that sometimes when you're the guest of honor(as in this tribute album)you don't get to prepare the menu(I've been a victim of that myself). But one thing is for certain Mr. Jones, you are a hero to me and millions around the world. People can be very protective of their heroes and when something or someone infringes upon the very fiber of what that hero represents there's bound to be an outcry. Seriously, some of these acts are musical kyrptonite, Superman.
In closing I would like to provide this quote which since the first time I ever heard it I can not tell you how many times I've repeated it. A wise man once said: "If you put a piano and a stack of money in the same room, they won't talk to each other, because one has nothing to do with the other." I believe you know whom that very sage advice came from. Whatever room you're in Mr. Jones it may be too crowded with industry people. I'd like to fill your room full of the love, admiration and respect that your legacy deserves. That comes from us folks who are a little off the beaten path: music people.
Sincerely,
An Entire Generation
Update: If you would like to sign our petition to "Bring the Dude Back" you can do so by going here.
Ivan Orr is a multi-instrumentalist, composer, performer, and writer. A native of Charlottesville, Virginia Ivan was involved with the forming and nascent days of The Music Resource Center as its first Program Director. A graduate of Virginia Commonwealth University's Department of Music, Ivan currently resides in Richmond, VA where he maintains an active performance and production schedule while serving as the Music Editor for Grown Folks Music, a position he has held since 2010.