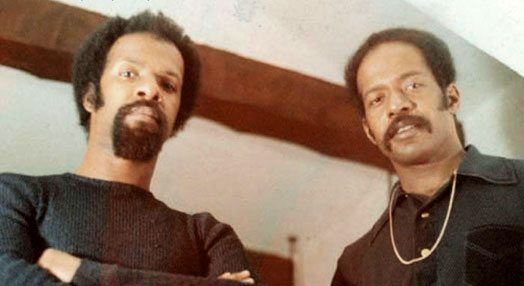 Who are the Mizell Brothers? Well, for those who don't know the name, I guar-an-tee you know their work.
Rather than me try and run it down from memory, leaving far too many credits out, you can read an excerpt below from their official website, which contains excellent interviews, pictures and more of their history.
On a list of the hottest jazz-funk producers of the 70s the name Mizell has to be right on top. With their Sky High Productions the Mizell Brothers gave us some of the finest jazz-funk and R&B records ever produced. Their distinctive, unique style gave music a whole new quality, resulting in a fascinating groove that has always held its appeal.

Larry (b. 17 February 1944) and Fonce (b. 15 January 1943) were born and raised in Harlem, New York, and Englewood, New Jersey. At college, they formed a singing group known as The Vanlords, with the other members being Freddie Perren and John Butler. Some years later, Larry and Fonce both graduated from Howard University in Washington DC. Among their teachers was Dr. Donald Byrd, who recognized their talent and played an instrumental part in the inception of their careers.

Fonce Mizell started off as a member of Motown's famous production team The Corporation. Together with Freddie Perren, Deke Richards and Berry Gordy Jr., Fonce helped write and produce many of the Jackson Five's early hits, such as 'I Want You Back' and 'ABC'. Fonce also wrote and produced for other Motown acts, including Marvin Gaye, Martha & The Vandellas, and Bobby Darin. Some years later, Fonce and Freddie Perren would write and produce Edwin Starr's soundtrack to the blaxploitation movie 'Hell Up In Harlem' (Motown 1974), on which brother Larry appears on Arp synthesizer.


Before that, Larry had worked with Donald Byrd on his Grammy nominated 'Black Byrd' album, which became the biggest-selling album in Blue Note history at the time. From then on, having moved to California, the brothers were working together, producing a string of fantastic records with their company, Sky High Productions. Most of them were released on Blue Note, Fantasy and CTI. They include classic jazz-funk like Donald Byrd's 'Street Lady', Bobbi Humphrey's 'Blacks And Blues' and Johnny Hammond's 'Gears', deep soul-funk and R&B like Gary Bartz's 'The Shadow Do', L.T.D.'s 'Love To The World' and Rance Allen's 'Say My Friend', as well as huge disco hits like A Taste Of Honey's 'Boogie, Oogie, Oogie'.
Last week in Atlanta, as part of the Red Bull Music Academy series,  the Mizell Brothers came in town as the featured guest.
Several Atlanta based producers including as Bryan Michael Cox, Donnie Scantz, Maestro and others were among the selected group that was privileged to meet the Mizell brothers and hear first hand their accounts of their legendary careers and experiences. Budding superstar, singer-songwriter Carlitta Durand as well as DJ Miss Kai were also in the house.
Keep an eye out on B-Cox's blog, Bryan's Journey, for some first hand accounts and hopefully some footage.
Here's a clip of the Mizell Brothers from their 2006 RBMA appearance in Melbourne. Amazing conversation. They are a wealth of knowledge in music, culture, history, technology and just life! We sure would like to hear that unreleased Warner Brothers project……. anyone??
Shout out to Jamal Ahmad for a great interview with the guys as well.