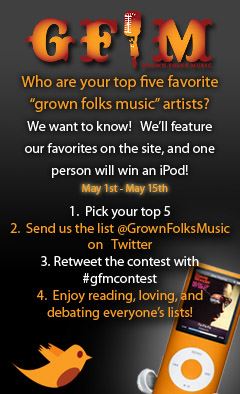 Thank you to ALL of you who have participated in the Grown Folks Music Twitterthon.  We welcome all our new followers and thank you for your thoughts on grown folks music.  We've decided to extend the Twitterthon for one more week until May 15th, so if you haven't tweeted us your thoughts yet, now's the time!  Check out some of our favorites from this past week:
@Staccyperalta: Aretha Franklin, Barry White, Earth, Wind & Fire, Stevie Wonder, Quincy Jones (the greats — Stevie and Aretha are definitely on my Top 5 list!)

@OldSchlMusicLvr:
How about for 1-5 The HOF Temptations (Eddie Cornbread , Paul, David, Melvin Blue, Otis Oat & Dennis the Dude)

(can't argue with that!)
@DJfan1:
DONELL JONES, DONELL JONES, DONELL JONES, DONELL JONES, DONELL JONES

(in case you couldn't tell, Donell Jones biggest fan – smile!)
So if you haven't gotten in on the action, check out the details here and give us your best shot!