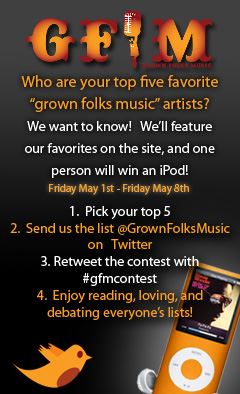 Announcing the GFM Twitterthon! Starting today and running until next Friday, send us your TOP 5 Favorite GFM artists @GrownFolksMusic on Twitter, and you'll be entered to win a GFM-certified iPod Nano!
We want to know — who are your TOP FIVE favorite "grown folks music" artists or groups?
1.)  Just tweet us your list, retweet the contest, and you'll be entered.  Don't forget to tag it #gfmcontest so we can keep track of all the entries!  We'll pick our favorites and feature them on the site over the week and hope you'll join us in the debate (and appreciation) that follows! The contest ends on Friday May 8th at midnight…so get tweeting!
If you want to sign up for Twitter, click here.   Is Twitter not for you?   We still wanna hear from you. Leave a comment with your Top 5 and tell us why!
*Only Twitter responses will be eligible for this contest.