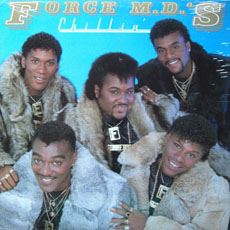 "Any group that has merged hip hop and R&B, are children of the Force MD's"

– Doug E. Fresh
Very true. The Force MD's were one of the first groups to combine incredible vocal skills, doo-wop style harmonies & dancing with hip hop as the backbone. And it worked. Well.
Their biggest hit was the Jam & Lewis classic, Tender Love, but they had several other gems in the late 80's. I remember them 1st dropping "Tears", which I promptly included on every slowjam mixtape I ever made!
In addition to being a great album, their greatest hits, For Lovers and Others: Force M.D.'s Greatest Hits also had one of the best album covers.
Unfortunately, 3 of the original members are no longer with us; Charles "Mercury" Nelson, Antoine "T.C.D." Lundy and DJ Dr. Rock. R.I.P.
Check out the mini-documentary on the group below and more videos, including an Alicia Keys cover of Tender Love after the jump.