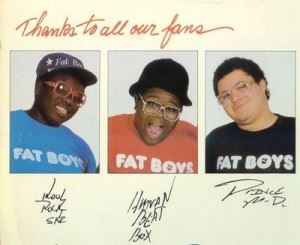 and doing it BIG on the technology tip. It's good to see them still doin' their thing and taking full advantage of all the tools at their disposal. Catch them at their official website, ustream, their 80's site and all over Twitter.
Still creating fun, great music, sense of humor still in effect and droppin' classic gems like these via twitter:
If I were a UFC fighter, I'd come to the ring to the "Safety Dance" song LMFAO "we can dance if you want to"
9:13 PM May 23rd from Tweetie

Time to hit the gym. Check out www.KoolRockSki.com to see the new slim, trim and fit Fat Boys' Kool Rock (me!!!!!) Bless

Since Kurtis Blow is a minister now, how should we bill him on the Krush Groove Revival Poster, as Minister Blow?
I am the Lochness Monster of Twitter, the Chuck Norris of Tweets, the Mr. T of Twiggaz, I'm nice between the Tweets LMFAO
They're doing a great job holdin' it down for the old school, so drop by and show them some love!
Kool Rock Ski, now a svelte 175 pounds, is working on his solo project, a highly regarded fitness consultant and advocate for the American Cancer Society.
Interested in reaching out to them? Hit up Uncle Louie of Uncle Louie L.L.C.
R.I.P. Darren "Buffy" Robinson aka "The Human Beat Box"


Can't go to Sbarro's to this day without thinking about this!