#SoulfulSaturday revisits the "Soul Capsule"…
Join us #Growns as #SoulfulSaturday celebrates 45 years of the classic album Innervisions from musical genius Stevie Wonder. The classic soul record "Living For the City" made its rounds 45 years ago, being the first record to blatantly speak out on the acts of poverty, racism, and the poignant struggle. Making a statement, the record became a "voice" for society. Stevie's classic peaked at No. 8 on the Hot 100 and No. 1 on the Hot R&B/Hip-Hop Songs chart for 2 weeks straight. Check out the Classic Motown visuals from from the prominent soul-stirrer.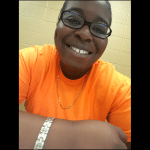 Mattie Brown is a Music Journalist, specializing in reporting and producing content for the R&B genre. Residing in Decatur, GA she obtained her A.A in Journalism from Georgia State University-Perimeter College. Mattie has always had a passion for writing, designing and editing. While pursuing her B.A at Clayton State University, her musical passion took her to new heights. "My love for R&B has kind of outweighed everything", she states. She has truly taken her craft and used it to her full advantage. Mattie joined the team of Grown Folks Music in the summer of 2017 as their Music Journalist and is continuing to pursue her education.