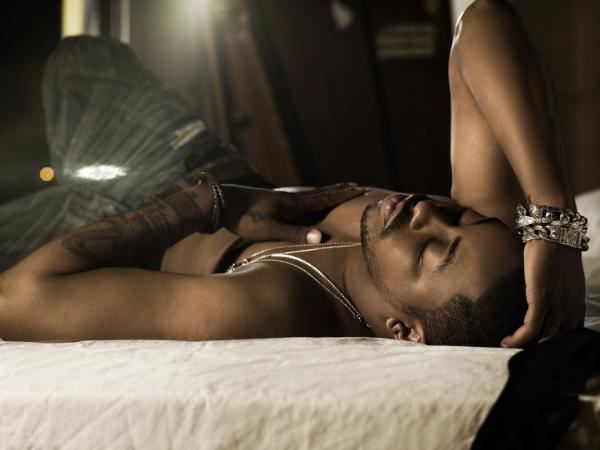 Warning: The following video may not be suitable for those under 18. Parental discretion is advised.

When I got this video, I was warned that it was pretty graphic. So I thought to myself, "how graphic can this video really be?" For goodness sake, it's Raheem DeVaughn not R. Kelly!!! When I attempted to watch this video on YouTube, I was greeted with the following message:
This video has been removed as a violation of YouTube's policy on nudity or sexual content.
WTF is dis situation about!?!?  Between Keri Hilson's p-popping video giving millions of computers so much nastiness, you'll swear your laptop has a virus, this situation really can't be that bad!!!! Well, damnit if I was wrong!! Here is this chick getting the "DeVaughn Kama Sutra" experience in high definition!!! Now while I can appreciate a good sex scene here and there, I gotta be honest with you – I was a bit torn for a number of reasons.
Being a single woman who can value the artistic display of sexuality, this video – how should I say it – didn't stir the waters below the Dixie Line for me :).I may have a different take than other women but I found it very conventional. Yes, I was kind of surprised of it coming from  Raheem DeVaughn but hell, I'm not seeing anything I've never seen before. Plus, I'm the type of chick who likes to be teased a bit. It's the soft subtlety that intensifies the mystique and anticipation. By doing this, you give the mind room to flirt and imagine.  This video was just a "sucky dialogue" and an immediate sexcapade reminiscent of  a soft porn flick to me.
My other point of distress comes from the question, "why did Raheem choose this type of video to do?" After seeing this video, all I could say was, "come on, Raheem….really…has it gotten to this point?!?" I have to ask this question because what is this really about?? Am I suppose to listen to the music or check out the porn because I'm confused? If I'm looking at porn, my last care is the music that was playing in the background!!! I don't give a damn what music was playing!! So with that being said, what is this video really selling? Are we selling music or sex? If we're selling music, then step your game up!! This "ish" wasn't it!! If we're selling sex , then seriously what section of Starship can I find you?
Give us your thought? Do you think Raheem went too far on this video? And also check out his mixtape, Jackin 4 Beats, too!
Raheem DeVaughn – She's Single
– Watch more Videos at Vodpod.

Hope West is a music enthusiast and music photographer who has captured artists like B.B. King, Janet Jackson, Teddy Riley and many others.  A life long lover of music, Hope is a graduate of Full Sail University where she studied music engineering. She's also a proud "Florida Girl" born and raised in Ft. Lauderdale, Fl. and currently resides in Atlanta, GA as a "Georgia Peach". Hope is known for her creativity, sense of humor and quirky perfectionism. Artist(s) that make her freak out as a music fan: Sheila E., Jimmy Jam & Terry Lewis, Quincy Jones.