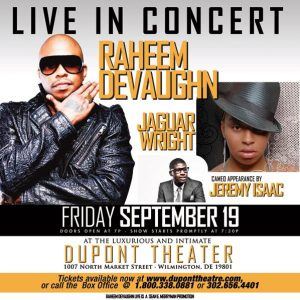 On the heels of the release of his latest single "Queen" and the news of a partnership with eOne Music, the hardest working man in today's R&B Raheem DeVaughn, brings his sensual stage show to the DuPont Theater in Wilmington, Delaware Friday night. In what promises to be an evening charged with romance, passion and DeVaughn's special brand of desire, he'll be joined by a two of Philly's finest, the soulful Jaguar Wright and newcomer Jeremy Isaac.
Love is a word that consistently flows from Raheem DeVaughn; you hear it in his music, you see it in his philanthropic and it lingers in his speech, "Love is a universal word that brings us together, just like music, religion and social networking," says the prolific musician whose previous album titles all include the word love. "People are fascinated with love and are still trying to discover what it means. I like to think that I make music that is passionate, conscious, caring and endearing…so I definitely try to embody all of that in the music I put out."
Love comes to the DuPont Theatre (1007 N. Market St, Wilmington, DE 19801) in the form of Raheem DeVaughn, Jaguar Wright and Jeremy Issac. There are still a limited number of tickets available and can be purchased here or at the box office. For additional information, please call 410-215-8893 or Email chesdadrising@aol.com. Special group rates are available for purchases of ten or more tickets.
Earlier this week, Raheem DeVaughn stopped by WDAS in Philadelphia to chat with Patti Jackson; hear the interview below: