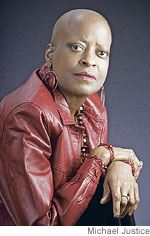 Gospel singer Olivia McClurkin, sister of Pastor Donnie McClurkin, & singer in the McClurkin Project, passed away November 4th after a long battle with cancer.
Pain Eases with Each Second of Praise
Los Angeles, CA – One of gospel music's most powerful singers, Donnie McClurkin and his family mourns the loss of their sister, Olivia McClurkin. The second oldest sibling of seven children succumbed to a nine year battle with cancer on Tuesday, November 4, 2008. Not only will this day be recorded in the history books for the nomination of America's first African American President, but it will be recorded in the hearts of McClurkin's family and friends as the day she made her transition.
McClurkin was a dynamic vocalist who recorded with her siblings on two McClurkin Family Projects (Zomba Records), along with singing background for such artists as pop star Whitney Houston, gospel artists Pastor Andrae Crouch, Ron Kenoly and others.
Olivia McClurkin leaves behind a grandmother, mother, father, two brothers, four sisters, three daughters, nine grandchildren and a host of friends.
Funeral arrangements are as follows:
Olivia McClurkin's Home Going Service
Tuesday, November 11, 2008 at 7:00 pm
Perfecting Faith Church
311 N. Main Street
Freeport, NY 11520
(516) 223-8300
NO FLOWERS PLEASE
The McClurkin Project – We Praise You (Live)
Our thoughts and prayers go out to the McClurkin family.