Motown's Own, Mary Wells…
Grown Folks Music remembers the life and legacy of #Soul vocalist Mary Esther Wells. Becoming the first lady of the famed Motown record label, she belted out classic hits such as Two Lovers, and her world-renowned classic "My Guy". Wells gained mainstream appeal through her dynamic vocal ability. She was noted as the record label's 1st successful female performer until her departure in 1965.
In 2012 her autobiography, Mary Wells: The Tumultuous Life of Motown's First Superstar was released, highlighting the ups and downs of her career and personal life. We shall never forget the '1st' Lady.
Check out one of her dynamic performances below.
(May 13, 1943 – July 26, 1992)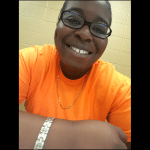 Mattie Brown is a Music Journalist, specializing in reporting and producing content for the R&B genre. Residing in Decatur, GA she obtained her A.A in Journalism from Georgia State University-Perimeter College. Mattie has always had a passion for writing, designing and editing. While pursuing her B.A at Clayton State University, her musical passion took her to new heights. "My love for R&B has kind of outweighed everything", she states. She has truly taken her craft and used it to her full advantage. Mattie joined the team of Grown Folks Music in the summer of 2017 as their Music Journalist and is continuing to pursue her education.