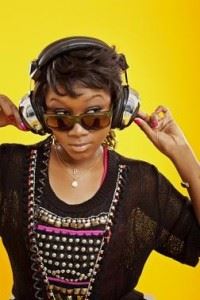 Talented is an understatement, to say the least, when it comes to this young vocalist who took control of her own lyrical destiny via the famed flow of "YouTube". Owing to what some view as a lack of substance or simply likeable music, those reasons alone inspired Ms. Priscilla Renea to write her own songs and create a sound not only pleasing to her ear but to a slew of others as well. Equipped with her acoustic guitar and (self taught) piano abilities, this fresh face is ready to share her innate sound with the world.
Just barely scratching the "grown folks" surface, this blossoming twenty-sumthin' year old songster decided to trade in hanging out for honing in on her success. Already accustomed to traveling, due to her navy dad, Ms. Renea has been canvassing the necessary territory to unveil everything she has to offer as an artist. Speaking of which, her promo tour which kicked off around June, has led her to some 20 cities and counting. Promoting her latest single "Dollhouse" which is an upbeat song where she chants about her position on the relationship two-way street; "I ain't a doll, this ain't a dollhouse", the Vero Beach, Florida flower is creating a growing buzz considering she got her start, professionally singing, just a short time ago.
Priscilla Renea has generated over a million views on YouTube for her past posts like, "Cry", "I fell in love with you", the celebrated "Hello my apple" and the impressive "The Dictionary" where she actually sang the first part of the dictionary over Fergie's "Glamorous" beat. With the anticipated release of her debut album "Jukebox", due out 10/20/2009 on Capitol Records/Power Entertainment and the upcoming video premiere of her first single "Dollhouse" Ms. Renea is getting off to a very predominant start.

The album features no collabo's and production from renowned producers like Soulshock & Karlin, Ronnie "Lil Ronnie" Jackson Jr., Brian Kidd and Atlanta's own, Power Entertainment which happens to house two of its most thriving producers, Blaq Smurph and the Honorable C.N.O.T.E. who have successfully produced songs for Trey Songz, Ludacris, T.I., Flo-Rida and the Pussycat Dolls, just to name a few.
When asked about her influences, she mentions talented acts like Corrine Bailey Rae, Lily Allen, Lauryn Hill and the eminent, Whitney Houston. "I'm influenced and inspired by anybody who has the courage, ability and the right attitude when it comes to performing and doing music." At the pace Ms. Renea's going combined with her diligent efforts and verve infused voice it's inevitable that her name will soon be added to that influential list. Listening to her eccentric sound and watching her perform as she wows her fans with her luminous look and effervescent attitude; I can guarantee you this "bad" apple won't be spoiling anybody's bunch.
Hello My Apple (Official Video)
KayBee (@ItiZwutiTizZ)