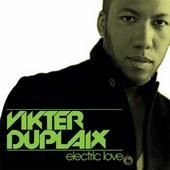 Grammy nominated singer/producer Vikter Duplaix delighted his faithful fans and likely gained many new ones yesterday with a twitter blast for his blazing new single, Electric Love.
We love to see artists connecting with their fans and effectively utilizing the many tools at their disposal. All you need to do is supply your email address, and you can download the single directly from his website.
Check it out and let us know what you think.
Also, peep his video for "Make a Baby", off his Bold and Beautiful (BBE/2006) album after the jump.