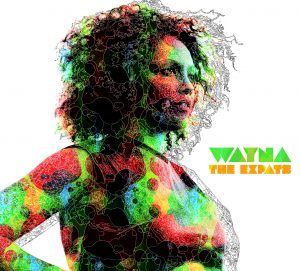 Fresh off of a very successful sneak peak listening session in D.C hosted by Studio 202 (where Wayna was greeted by a who's who of the D.C/Baltimore area came out to represent and support) we've got a special offering of three new tracks from the new project(which drops October 29th) that are available not only for your listening pleasure but for your downloading to add to your collection.
Download and stream here:::: A taste of what's to come and unreleased!
"I Don't Wanna Wait"
https://soundcloud.com/wayna/idontwannawait-theexpats
Check out the video for the lead single from The Expats "I Don't Wanna Wait" below.
Checkout Wayna in cyberspace here: http://www.wayna.net
Catch Wayna live:
Nov 16th- The Shrine— Chicago
Jan 11th– Apollo Music Café- NYC
Feb 1st— Soul Social- -Richmond, VA
From the press release
It has been said that Grammy-nominated, Ethiopian-born, singer/songwriter, Wayna has a voice as pure as it is passionate. Stevie Wonder says "she's incredible." Essence Magazine says "Wayna is one to watch," and Billboard Magazine calls her "a stand out on the indie front." With two Billboard chart-topping singles from her sophomore LP, Higher Ground, and a coveted Grammy nomination in the Best Urban/Alternative Performance Category for her remake, "Lovin You (Music)" featuring Kokayi, Wayna's star is on the rise. The remake, which she also co-produced, is a fitting representation of her unique vocal style, a blend of Minnie Riperton, Lauryn Hill, and Billie Holiday.
'The Expats' is the third and latest studio project from this innovative artist and represents a new and daring departure from her previous work.
The album's sound, both progressive and retro, appeals to world, rock, reggae, hip hop, and soul enthusiasts. Mixed by multi-Grammy award winning engineer Russell Elevado, "The Expats" is a reference to the contradictions that result from being raised and influenced by various cultures — contradictions that some would call abnormalities. But on this CD, Wayna celebrates those abnormalities unapologetically and encourages the listener to do the same.
Her Toronto-based backing band and production team hail from various parts of the world — Ethiopia to Japan, Israel to India, Germany to Jamaica. Drawing from these diverse musical influences, Wayna and her Expats create a unique blend of African and Reggae-inspired soul, fused with classic and alternative rock — Sade and the Police meets Lauryn Hill and Radiohead. This 9 song LP is an introduction to their new sound, which Wayna calls "world soul." The songs are selections from her creative journey, jamming, writing and recording with her collective in Toronto over the past 2 years.
Lyrically, Wayna continues to push the envelope, with a visual, storyteller style of writing that addresses subject matters not typically found in modern music. "Fate can only be delayed, so why even make her wait," she says on "I Don't Wanna Wait" — a sonic blend of Bob Marley, Motown, and golden era Hip Hop, produced by German beat maker, Fahrot, (also known for his work with Nneka). The haunting and ambient "Yo Yo" summons an emotional ride using an afro beat backdrop merged with dance rhythms and alternative rock guitars. "A Time Will Come" addresses racial and economic inequality and is made more poignant by an Amharic excerpt from Haile Selassie's famous 1963 address to the United Nations, while "Send It Away" invites listeners to live more authentically, letting go of what does not fit. "He brought it with my water, a life I didn't order, why live to please the waiter, send it away."
"The Expats' celebrates individuality. "I've always been a bit of a Freak" says Wayna "feeling different culturally from the people around me. For years, I tried to minimize those differences, but then I realized that my cultural contradictions are my musical identity. I want this project to be about exploring and expressing all the ways in which I and every one of us are unique, culturally or otherwise, and to celebrate those differences unapologetically."
"The Expats" out world-wide Oct 29th, 2013
W/ more dates TBA