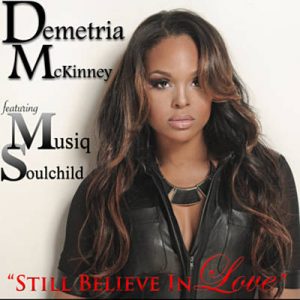 Fresh out the inbox and out on iTunes today… singer and actress Demetria McKinney who fam members should be familiar with from her role as Janine Payne on Tyler Perry's House of Payne has collaborated with Musiq Soulchild to produce this heartfelt and emotional duet entitled "Still Believe In Love".
Sonically and lyrically rich, "Still Believe In Love" is poised to be a song that will be on repeat whether you are going through or are on the other side of through. Demetria and Musiq's voice compliment each other in a real way(both allowing the other to musically speak their peace) and the blend is bolstered by the very tasteful arrangement. This is definitely one you want to get up on this Fall and beyond.
From the press release…
Atlanta, Georgia. August 19, 2013 – Actress and Singer Demetria McKinney releases new video and new single Still Believe in Love, featuring Musiq Soulchild, to anchor new movie soundtrack and ready listeners for her upcoming EP.
Fresh off of filming the second season of The Rickey Smiley Show, actress and singer Demetria McKinney taps the incomparable Grammy award-nominated singer and songwriter, Musiq Soulchild, to pen and produce what is sure to become the season's most well-received ode to love.
Being officially released on iTunes today, the song tells the tale of unwavering, unabashed love between two people that experience it for better or for worse. Accompanying the single will be the sultry video also being released today.
"Musiq Soulchild is a musical genius. From his knowledge of music, to the energy he brought in the studio, we knew the song would be magical. I'm blessed and honored to have worked with him on this project. As I continue my recording career, I hope to have more collaborations with musicians who I admire like Musiq."
In The Meantime airs Saturday September 7th at 9P on the UP network. The romantic comedy stars Demetria Mckinney, Darrin Henson, David & Tamela Mann, Kali Hawk and Terri J. Vaughn.
Demetria is best known for her role as "Janine Payne" on the TBS sitcom "Tyler Perry's House of Payne." Demetria's next film project is the BET film Let The Church Say Amen directed by Regina King, starring Naturi Naughton, Hosea Chanchez and Lela Rochon.
McKinney will release a four-song EP this fall under RTD Entertainment.
Ivan Orr is a multi-instrumentalist, composer, performer, and writer. A native of Charlottesville, Virginia Ivan was involved with the forming and nascent days of The Music Resource Center as its first Program Director. A graduate of Virginia Commonwealth University's Department of Music, Ivan currently resides in Richmond, VA where he maintains an active performance and production schedule while serving as the Music Editor for Grown Folks Music, a position he has held since 2010.