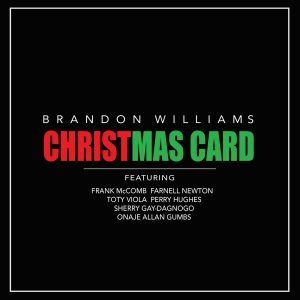 Throughout the entire year but now more than ever the team at GFM HQ take very seriously the notion that "Sharing is caring". With his 5 song EP "Christmas Card" Grammy Nominated Musician and Producer Brandon Williams cares enough about the music to have assembled this stellar casts of musicians and musical arrangements to share just in time for this season of cheer. Christmas Card is a sonic appetizer of sorts, presented to become a new seasonal favorite as well as prepare the way for the third and final single "Now I Know" to be released ahead of Brandon's album XII due out in the Spring of 2014. "Now I Know" features the talents of Robert Glasper & Jesse Boykins III and you can be on the lookout for it as we ring in the new year! The previous two single releases "Stronger" feat. Jean Baylor (formerly of Zhane) and "Godsend" have both been featured here on GFM and if you have not put your ears on these gems you need to, with the emphasis on need.
But for now… you need to press play in effect opening this lovely card to listen to these wonderful new musical expressions on the classics: "White Christmas" featuring Sherry Gay-Dagnogo (vocals) and Onaje Allan Gumbs (piano), "What Child Is This (Greensleeves)" featuring Sicilian guitarist Toty Viola, "Christmas Time Is Here" and "The Christmas Song" performed by Frank McComb (vocals), Farnell Newton (trumpet), and Perry Hughes (guitar) with an additional acoustic version featuring Allyn Johnson on piano. This is what's happening right now in 2013, the sound the feeling of now firmly entrenched in what has been lost by many and that is the tradition of excellence that occurs when you respect the muse and her music.
Brandon Williams is offering and sharing a Christmas Card from himself and these exquisite musicians that he has assembled so that we might begin a new tradition. A new collection of old favorites re-imagined for us now, that we can add to our collective Christmas Playlists. But more than that, I believe that the music that Brandon Williams is creating and a few others is preparing us for the return to where the audience and creators of music need to be: At the corner of excellence and greatness. We've tried many different locations over the last decade and a half and quite frankly it's left a lot of us lost. Now we have a card and a direction.
From the press release…
Produced & Arranged by Williams, "Christmas Card" is a 5-song collection of familiar but fresh holiday classics that masterfully blends soul, jazz, and R&B together to jump start the holiday season. Williams says, "I just wanted to get some great vocalists and musicians together to make some holiday music for people all over the world to enjoy."
Williams, a direct protégé of Grammy and Billboard super producer Michael J. Powell, is a powerhouse of musical knowledge and ability. His talents include production, arranging, engineering, and playing more than 15 instruments. He was named 2012 Entertainer of the Year and 2013 Drummer of the Year by the Detroit Black Music Awards, nominated for a Grammy in 2009 for Vickie Winans' "How I Got Over", and was also featured in the Who's Who In Black Detroit as one of the "Men To Watch" in 2010.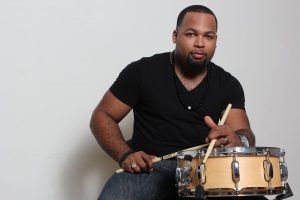 As a producer, Brandon has lent his hand to such artists as Vickie Winans, Jadakiss, Janet Jackson, J. Dilla, Gene Dunlap, Bilal, Pharoahe Monch and more. As an artist, he has performed and toured with some of the industry's finest including Robert Glasper, Kim Burrell, Jaguar Wright, Kelis, Talib Kweli, and Jay Electronica just to name a few. Along with national tours, Brandon has also graced the stages of all of Detroit's premier venues and clubs including The Fox Theatre, Chene Park, Freedom Hill, Detroit Opera House, Hart Plaza, Music Hall, and Bakers Keyboard Lounge.
Ivan Orr is a multi-instrumentalist, composer, performer, and writer. A native of Charlottesville, Virginia Ivan was involved with the forming and nascent days of The Music Resource Center as its first Program Director. A graduate of Virginia Commonwealth University's Department of Music, Ivan currently resides in Richmond, VA where he maintains an active performance and production schedule while serving as the Music Editor for Grown Folks Music, a position he has held since 2010.