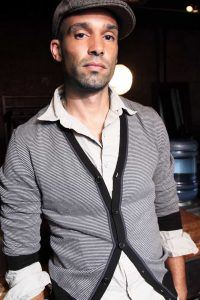 [New York City] – Crowds may not be familiar with his name as a front man/ vocalist; that's because he is busy scoring films, being featured on Grammy- nominated artists' albums and directing Soul Speeker Media's sonic branding campaigns.
Jalyn is a multi-faceted music producer who leads visual projects and develops music scores for ad campaigns, TV shows and films through his company, Music By Jalyn. He will now be offering free downloads for his newest micro-album, Pushing Through Walls due out later this month and throughout January 2011.
Jalyn's production is a vivacious blend of hip-hop, pop, alternative soul and electronica, spanning all genres. A San Francisco Bay native, Jalyn has been busy composing music for film and television in San Francisco, LA, and now NY. After scoring Shandra McDonald's film, "Can't Let Go", Jalyn quickly gained attention in the indie world and has since gone on to score music full-time for recording artists, brands, films/TV, and for fans. Jalyn is first and foremost a musician; an instrumentalist who plays piano, guitar and drums.
"This one guy Jalyn had such a crazy flavor that we were going to use three [songs] from him but we were like, we can't make this guy remix the whole album. He remixed "Uptown Girl" [on my Yes! Remix Album] and he has this John Hughes, Ferris Bueller's Day Off – 80s music [feel], very authentic with his own touch to it." – K-OS
Fans and music supervisors alike will be thoroughly impressed with Jalyn's Pushing Through Walls album, which has "music licensing" written all over it. As one of the most well-rounded producers out there, Jalyn's trifecta of talent shines showcasing his songwriting skills, vocal stylization and music production. The first release "Summer of '88" is an upbeat and funky song about finding love in the Summertime on the Jersey Shore. The second track " The Best I Am" is a personal recount of how love has made him the best he can be. His third release "Under The Stars in Brooklyn" is a love song about a star-crossed lovers in Brooklyn. Advance listen for press:
Contact Fiona Bloom at The Bloom Effect to receive an advance copy of the album, license songs, or for press inquiries. For sonic branding or audio identity, contact Jay@SoulSpeekerMedia.com
Checkout Summer of 88′ available here as a free download.

Ivan Orr is a multi-instrumentalist, composer, performer, and writer. A native of Charlottesville, Virginia Ivan was involved with the forming and nascent days of The Music Resource Center as its first Program Director. A graduate of Virginia Commonwealth University's Department of Music, Ivan currently resides in Richmond, VA where he maintains an active performance and production schedule while serving as the Music Editor for Grown Folks Music, a position he has held since 2010.