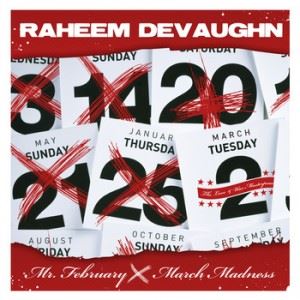 As an appetizer for fans (in anticipation of his junior release):The Love and War Masterpeace due out March, 2nd 2010; Raheem DeVaughn has released Mr. February aka March Madness a series of remixes, covers, and b-sides. You can download a free copy here. Did I mention free?
This set contains some great takes on some classics from the Grown Folks required playlist. One of my personal favorites is Raheem's take on the Stevie Wonder Songs in the Key of Life classic "Village Ghetto Land".
Raheem DeVaughn is an artist who has embraced the myriad of social media tools available to stay connected with his fans. He has asked fans, old and new alike to spread the word about the upcoming release and has invited us to keep up with him on twitter @RadioRah.