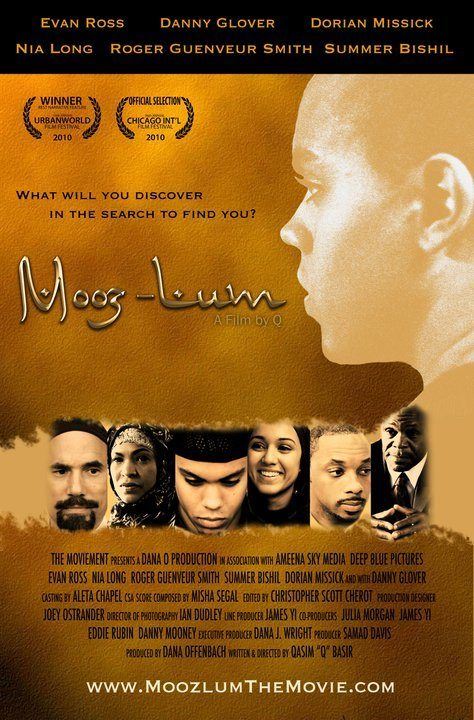 On the campus of Clark Atlanta University, I had the opportunity to catch the advance screening for the motion picture, Mooz-Lum starring Evan Ross, Nia Long, Danny Glover & Roger Guenveur Smith.  This is a "coming of age" drama set against the backdrop of the 9-11 attacks in New York and revolves around a young man named, Tariq, played powerfully by Evan Ross. Raised in a Muslim American home, Tariq is groomed by the compassionate love of his mother, played by Nia Long and the strict religious discipline of his father, played by Roger Guenveur Smith . While both parents want what is best for their children, they unfortunately don't see "eye to eye" on the matter which creates much turmoil for young Tariq. In finding his identity, Tariq is raised by his father who loves his son but is constantly living his needs and religious piety through him. To appease his father, Tariq strives to live up to his standards but later finds himself walking the thin line between fulfilling those expectations and truly finding himself.
Personally, I enjoyed this movie. While this story centers around the Muslim American culture, it deals greatly with some universal issues and definitely stirs the conversation of our  misconceptions and stereotypes of  Muslims in the American fabric. For anyone who enjoys a picture that provokes the mind and your beliefs, this is the flick for you!
Be sure to catch this powerful motion picture February 11th in the following cities:
New York City – AMC Empire 25
Atlanta – AMC North Dekalb Mall 16
Chicago – AMC River East 21
Los Angeles – AMC 30 at the Block
Philadelphia – AMC Franklin Mills Mall 14
Detroit – AMC Star Fairlane 21
Houston – AMC Studio 30
San Francisco – AMC Loews Metreon 16
Dallas – AMC Grapevine Mills 30
Washington, D.C. – AMC Hoffman Center 22
If you missed the trailer, here's a taste of what's to come or go to  www.MoozLumTheMovie.com for more information!

Hope is a music enthusiast and continual student of photography. Also known to rock out a quiet church or elevator with her current ringtone, Tom & Jerry's Uncle Paco, "Crambone".