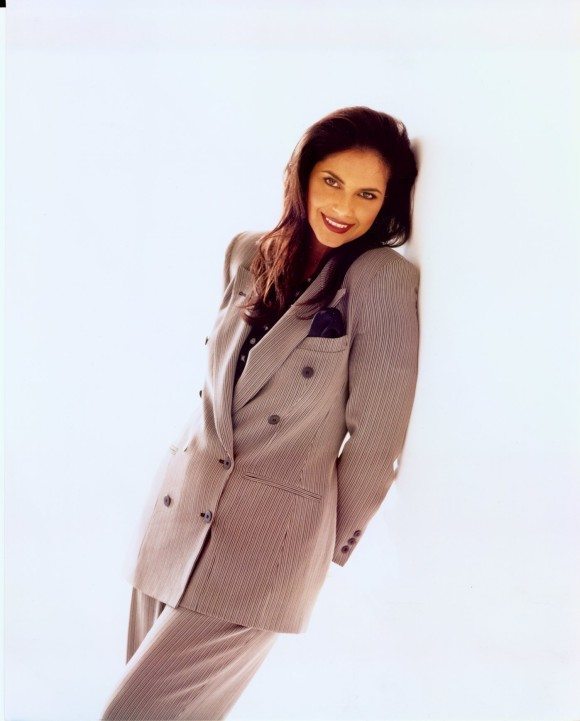 At at time before the proliferation of technology in every hand and a media outlet for every quirk there was simply the big three of TV, Radio and Print. As a very young teen I was introduced to the Prince protege known as Vanity at that time through a steady mix of all three mediums. For a young Black man born in the early 70's Vanity may have been the first of my generation's symbols of feminine beauty that we could call our own. This was a time of pictures and posters and the wall… Vanity shared my wall with other icons of the day(if memory serves me correct looking back to 1982 – 1983 Vanity's place on that wall was somewhere near Natalie Cole).
Image. Powerful. Somehow the intersection of the star power of Jaime Starr aligned with that of the naturally charismatic aloofness of Denise Matthews to create 80's lighting in a bottle for that electric moment in time where a few were breaking through. As a 7th grader I wasn't as wise about the world as I am now so yes I will admit that a Black person from Canada at that time was an exotical in my eyes(as the kids would say).
Musically "Nasty Girl" as a single and Vanity 6 was/is funky as all outdoors. In many ways a window into the world of the early 80's – brash, New Wave, Electronic, Atari. How I was able to purchase/play that album I'm not sure. It could be that my older sister had laid the groundwork with her purchase of Controversy a year and a half earlier, whatever the case was I was in possession of a production that was ahead of its time in subject matter, marketing and promotion. Let's be real and clear if the 'gram, reality TV, Twitter and the whole host of social media offerings had been around in the "Vanity" era but they were not and still her light shone brightly as it still does now after her passing.
Fame is a double sided four letter word. As there were numerous cheers for Vanity in the limelight, I can only imagine the dark days of silence for Denise Matthews in her lower moments. It is apparently clear that later in life Denise Matthews was able to find peace and that's what we could all only hope to find in our short time here. The selfish side of me is sad that another icon of my youth has passed on. The grown up in me understands the cycles of life and celebrates what we have fond memories of and the victory that can be found on the other side.
So when we count it all up if nothing else that's what I hope these few words will convey: that true love and admiration is not as fickle as a position of any music chart or the opening weekend at the box office, but it is a process where we cheer you on through each and every life station and recognize that the world is truly a better place for you passing this way.
Rest well Ms. Matthews
Ivan Orr is a multi-instrumentalist, composer, performer, and writer. A native of Charlottesville, Virginia Ivan was involved with the forming and nascent days of The Music Resource Center as its first Program Director. A graduate of Virginia Commonwealth University's Department of Music, Ivan currently resides in Richmond, VA where he maintains an active performance and production schedule while serving as the Music Editor for Grown Folks Music, a position he has held since 2010.