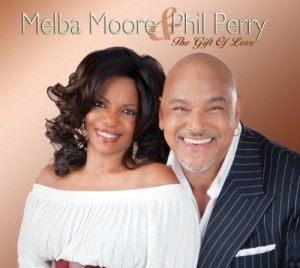 Tony Award-Winning Actress/Vocalist Melba Moore teams with up with one of the great voices of our time, Phil Perry for wonderful album duets, Gift of Love (Shanachie/2009).
Most recently seen in TV One's Unsung series, the album marks the return of Melba Moore to the R&B world after releasing several gospel albums, doing a one woman show (Sweet Songs: A Journey In One Life) and also owning a Gospel Club and restaurant in Harlem, Gospel Uptown. She was even a panelist on the "Artist Speaks" at the International Soul Summit last week here in Atlanta. Having been a long time fan, I was looking forward to meeting her, but unfortunately, she had to leave early. It was obvious though, her gracefulness, poise, and elegance brought a dignified and distinguished presence to the panel.

The album is a combination of cover classics and originals. Standout cuts include production from Preston Glass on the Ashford & Simpson penned "Ain't Nothing Like The Real Thing" and "You're All I Need To Get By". Among some of the other covers, "Sadie" (beautifully done) and "Optimistic" (Sounds of Blackness), Phil contributes two originals, ""Survival Kit"" and ""U Never Know". Their great chemistry and seamless vocal interaction is evident throughout, but particularly on Stevie Wonder's "Weakness". The roller coaster that has been Melba Moore's life and career has been well documented. Here are her thoughts on her journey:
"Everybody's got to have a dream. If you don't have a dream how you gonna have a dream come true?…. At the same time, all things come to an end and you have to be able to reinvent yourself. You either have to change or die. I just know that and I am willing to surrender before it kills me!"
Great duets are something that's been missing from the R&B/Soul scene for quite some time. If you've been longing for quality, mature music with great saaangin'; solid production and arrangements, then look no further. The Gift Of Love is your present.