Wow, very impressive. Some consider these the most beautiful and most accurate speakers in the world. This surround sound system features four omni-directional mirror imaged speaker arrays with a single bass tower and integral amplifier.
The four tower speaker is constructed of carbon fiber, aluminum, steel, acrylic and wood and weighs 1.5 tons. These bad boys have a max power of 2200 watts (600 continuous), 12″ bass drivers & boast a frequency range of between 24 Hz and 40,000 Hz.
Sound quality? I'll never know. Price? $250,000.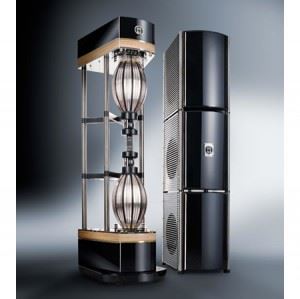 You can check out the demo after the jump, although it sure would be nice to hear them!