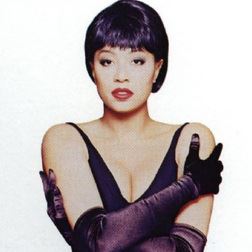 One of the most beautiful, powerful voices around. Some may remember her during her days as a session vocalist for Teddy Pendergrass, Billy Ocean and many more. Others remember her as the featured background singer for Luther Vandross throughout his career, both on albums and tours.
More recently she has continued to tour with Tina Turner and The Rolling Stones. Here she is, with her 1992 Grammy Award winning hit, How Can I Ease The Pain (Lisa Fischer, Narada Michael Walden), So Intense, (Elektra/1991).
Hopefully, she'll find time between writing and touring to bless us with the long awaited, rumored new album we've been hearing about.
See more from Lisa after the jump.

In 1983, recording under the name Xena, she released "On The Upside", which was a big club/electro record.
Lisa killin' it with The Rolling Stones.
Wildflower