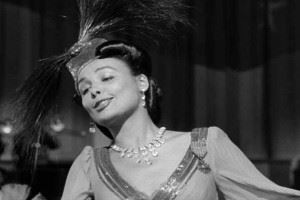 Even in her eighties, the legendary Lena Horne has a quality of timelessness about her. Elegant and wise, she personifies both the glamour of Hollywood and the reality of a lifetime spent battling racial and social injustice. Pushed by an ambitious mother into the chorus line of the Cotton Club when she was sixteen, and maneuvered into a film career by the N.A.A.C.P., she was the first African-American signed to a long-term studio contract. In her rise beyond Hollywood's racial stereotypes of maids, butlers, and African natives, she achieved true stardom on the silver screen and became a catalyst for change even beyond the glittery fringes of studio life.
Born in Brooklyn in 1917, Lena Horne became one of the most popular African American performers of the 1940s and 1950s. At the age of sixteen she was hired as a dancer in the chorus of Harlem's famous Cotton Club. There she was introduced to the growing community of jazz performers, including Billie Holiday, Cab Calloway, and Duke Ellington. She also met Harold Arlen, who would write her biggest hit, "Stormy Weather." For the next five years, she performed in New York nightclubs, on Broadway, and touring with the Charlie Barnet Orchestra. Singing with Barnet's primarily white swing band, Horne was one of the first black women to successfully work on both sides of the color line.

Within a few years, Horne moved to Hollywood, where she played small parts in the movies. At this time, most black actors were kept from more serious roles, and though she was beginning to achieve a high level of notoriety, the color barrier was still strong. "In every other film I just sang a song or two; the scenes could be cut out when they were sent to local distributors in the South. Unfortunately, I didn't get much of a chance to act," she said. "CABIN IN THE SKY and STORMY WEATHER were the only movies in which I played a character who was involved in the plot." Her elegant style and powerful voice were unlike any that had come before, and both the public and the executives in the entertainment industry began to take note. By the mid-'40s, Horne was the highest paid black actor in the country. Her renditions of "Deed I Do" and "As Long as I Live," and Cole Porter's "Just One Of Those Things" became instant classics. For the thousands of black soldiers abroad during World War II, Horne was the premier pin-up girl.
Much like her good friend Paul Robeson, Horne's great fame could not prevent the wheels of the anti-Communist machine from bearing down on her. Her civil rights activism and friendship with Robeson and others marked her as a Communist sympathizer. Like many politically active artists of the time, Horne found herself blacklisted and unable to perform on television or in the movies. For seven years the attacks on her person and political beliefs continued. During this time, however, Horne worked as a singer, appearing in nightclubs and making some of her best recordings. LENA HORNE AT THE WALDORF ASTORIA, recorded in 1957, is still considered to be one of her best. Though the conservative atmosphere of the 1950s took their toll on Horne, by the 1960s she had returned to the public eye and was again a major cultural figure.
In 1963, she participated in the march on Washington and performed at rallies throughout the country for the National Council for Negro Women. She followed that with a decade of international touring, recording, and acting on both television and the silver screen. Horne had found in her growing audience a renewed sense of purpose. All of this came crashing down when her father, son, and husband died in a period of twelve months during the early 1970s. Horne retreated almost completely from public life. It was not until 1981 that she fully returned, making a triumphant comeback with a one-person show on Broadway. LENA HORNE: THE LADY AND HER MUSIC chronicled Horne's early life and almost fifty years in show business. It ran for fourteen months and became the standard by which one-woman shows are judged. Throughout the past twenty years, Horne's performances have been rare yet welcome occurrences.
Much has changed since the 16-year old who was Lena Horne danced her first tentative steps across the stage of the Cotton Club. Through myriad triumphs and challenges, she paved the way to stardom for countless others in the entertainment industry. Her continued musical, theatrical, and political efforts grew with the times and met each new decade with courage and grace. But, if one thing hasn't changed, it's Horne's ability to break our hearts with her shimmering resonant voice, singing songs like "Black Coffee" and "Stormy Weather."
Lena Horne Tribute Site