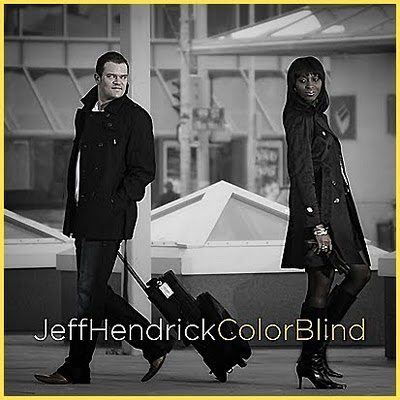 The new project Color Blind from multi-instrumentalist/songwriter/producer Jeff Hendrick could be summarized by a few lines from the opening track "Back To The Days". Hendrick states "I wanna take things back to the days when music lifted people, songs had something to say." Mission accomplished.
The appeal for this reviewer is that Color Blind contains classic production and writing technique: memorable hooks and melodies and grooves that support the vocal and don't distract. Often in this producer-driven era the vocal is used as another element in the arrangement and not the focus of the story. On Color Blind the vocals are front and center, relaxed and smooth, conversational.
This is music to move and groove to, in listening to this set it is very easy to see why Jeff Hendrick is a favorite among steppers around the world(he will perform at the world's largest steppers contest later this month in Chicago) the beats are very steady with the right snap on the backbeat that makes this music prime for stepping.
Don't get it twisted Jeff can definitely slow it down as he does on the title track "Color Blind" which is reminiscent of 80's era Sade in its delivery. No rush here, the music and the message are allowed to breathe. Which brings me to another thought and that is Jeff Hendrick's use of instrumental breaks. Whether he utilizes a keyboard or saxophone solo they are all executed masterfully.
If you enjoy and appreciate great singing, songs and production this is a must have purchase for you. It's easy to see why Jeff Hendrick has been a featured B-Side artist and favorite of Michael Baisden since 2006: great music cannot be denied.
Color Blind: Highly Recommended

Ivan Orr is a multi-instrumentalist, composer, performer, and writer. A native of Charlottesville, Virginia Ivan was involved with the forming and nascent days of The Music Resource Center as its first Program Director. A graduate of Virginia Commonwealth University's Department of Music, Ivan currently resides in Richmond, VA where he maintains an active performance and production schedule while serving as the Music Editor for Grown Folks Music, a position he has held since 2010.