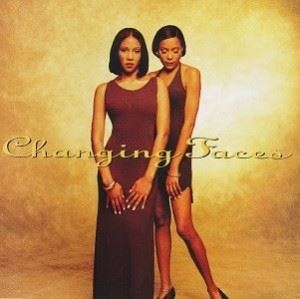 Ok, so as knowledgeable as I claaaaaim to be re: hip-hop , old skool r&b and other things unmentioned, WHY didn't I know Cassandra Lucas was the chick singing in Sweet Tee's 1988 video "Why did it have to be me"??? (That's a throwback yall; if you remember that then I have to tip my wig to you. HA!) Anyway…
Hailing from the Concrete Jungle also known, to the untrained ear, as New York, this mid 90's duo was introduced to us by no other than the "pied piper" himself, R. Kelly. While studying at NY's Music and Art High School, Spanish Harlem native Cassandra Lucas and Bronx born Charisse Rose, teamed up to make music and give us the unforgettable sounds of Changing Faces.
With music still being the main objective, after high school, the two went their separate ways to pursue college and degrees. A few years later, they were reunited when they were hired on as touring background vocalists for the 90's r&b singer Sybil (another GF missin' nominee).

Lucas and Rose spent 2 years with Sybil and soon after decided to return to New York and from their own group. Discovered singing on the street, by Kenny Smoove, head of Big Beat subsidiary of Atlantic, Changing Faces were signed to a label a week later.
Their self-titled debut album was released in 1995 and topped the charts with the popular singles "Stroke you up" & "Foolin' around", written and produced by R. Kelly. They later returned in 1997 with the sophomore c.d. "All Day All Night" and another R. Kelly produced hit single "G.H.E.T.T.O.U.T".
In 2000, the New York natives dropped another album entitled, Visit Me. They released "That other Woman", a single off the c.d. that, from what I remember, was pretty good. But unfortunately, well…you know the rest.
So, what is the rest?
GFM wants to know, where are you? You are missed.
If you got the info, then let us know!
contact [at] grownfolksmusic [dot] com
KayBee (ItiZwutiTizZ)