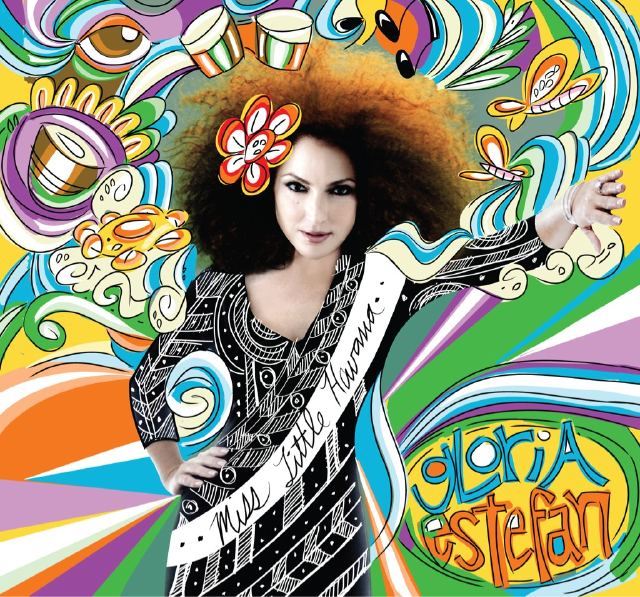 From the press release…
"This is dedicated to los oprimidos/Who give so much love that is in the air/They work all day then dance all night/So if tomorrow don't come/They say, 'Hey, who cares!'" "WEPA"
The Queen of Latin Pop, Gloria Estefan is back with her 26th album, Miss Little Havana, the international star's first English language release since 2003's Unwrapped, and her debut for Universal Music Group, a Target exclusive. The Cuban-born, Miami-raised performer has sold a remarkable 90+ million albums worldwide and earned seven Grammy® awards since debuting as the front woman for what would become the Miami Sound Machine, a band she joined as a teenager upon meeting her now-husband and producer Emilio Estefan, eventually evolving into solo superstardom and a Hispanic female role model.
With her collaborator and producer Pharrell Williams, Estefan's Miss Little Havana represents a musical and conceptual return to her Latin dance-floor roots on smashes like "Conga" and hit albums Primitive Love and Let It Loose. The first single, "WEPA," which loosely translates into a "Wow" moment, is a propulsive combination of the classic Miami beat updated for modern times, what Estefan calls "a straight-up Dominican meringue groove over a cool urban Pharrell sound, buttressed by honking trombones straight from a Little Havana street party.
"It's a celebration of dance," says Estefan of "WEPA" and, by extension, Miss Little Havana, which takes its theme from the first nine songs she worked on with Pharrell, telling the story of a 17-year-old girl who comes to the big city looking for freedom and romance, only to find heartache and betrayal. "Dancing is one of the things that unite us, regardless of age, background or social standing. You can have just as much fun on the dance floor as any millionaire."
Gloria's life-long commitment to her bi-cultural roots is reflected in Miss Little Havana's fusion of musical sounds, which combine the synthesized "808s and kicks" of today's cutting-edge dance music with Latin percussion and horns recorded live, a quality that has distinguished her musical approach from the start. The new songs range from the Brazilian bahia/samba of "I Can't Believe," the funky Cuban bongos, timbales and congas of "Heat" and the Colombian cumbia of "So Good," to the silky smooth Philly International R&B/disco and wah-wah guitars of "Right Away" and the bi-lingual Miami sound of "Say Ay." Haitian-American musician Black Dada raps, Estefan's teenage daughter Emily Marie shreds a post-punk guitar solo and Gloria herself sings in Creole over the tribal African tribal world beat of "On." The four-song, Emilio Estefan-produced addenda to Gloria and Pharrell's nine-song story line finds the title character hitting the clubs, jitterbugging on "Hotel Nacional" (with Gloria singing in French and rhyming soap opera star Susan Lucci, Olympic Gold ice skater Kristi Yamaguchi and filmmaker "Last Tango" Bertolucci with "Hoochie Coochi"), the techno-pop club-floor gem, "Make My Heart Go," featuring Dominican rapper El Cata, and "Medicine," a celebration of the healing quality of dance. Also included are a "WEPA" remix featuring fellow Miami Latin hip-hop star Pitbull, whom Gloria first worked with back in 2007 on "No Llores," a track on 90 Millas, when he was still an emerging artist on the local scene. As an extra added bonus track, Miss Little Havana includes her updated version of "Let's Get Loud," a song originally written and recorded by Gloria, which was a global hit for Jennifer Lopez, as well as the most requested by fans on Twitter for Estefan to release. Aside from writing her own hits, Gloria has penned songs for the likes of Lopez and Shakira, earning an induction into the Songwriters' Hall of Fame.
The genesis of Miss Little Havana took place when Williams, a member of the Neptunes and N.E.R.D. whose production/songwriting credits include Jennifer Lopez and Shakira, along with Justin Timberlake, Kid Cudi, Britney Spears, Madonna, Brandy, Snoop Dogg and Game, brought Gloria the first three songs, including the title track, "I Can't Believe" and "Heat." They immediately entered the Estefans' home Crescent Moon studio to work on more tracks.
"I kept telling Pharrell, I felt like I did when I was recording Primitive Love," she says. "Everything happened really naturally, and that's always a good sign. When we finished, I pointed out to him that the songs told a story about a girl who wants her freedom, hooks up with an ex on the dance-floor, they have a fling and then at the end, he's with somebody else. It didn't start as a concept, but that's how it worked out."
Pharrell insists the concept for the album was "just to continue to make good music… It's my contribution to Latin music. We had lots of fun working in the studio. It was enlightening to collaborate with Gloria. I'm thrilled with the way it turned out and am very thankful for the opportunity to work with her."
It's a story that has some autobiographical elements for Gloria, especially the poignant ballad, "Time Is Ticking," co-written by Gloria with Pharrell and husband Emilio, in which she reminisces about "the smell of my Dad's cologne.," "climbin' the tree in my old backyard," "my mother's smile from ear to ear," "when I got all A's on my report card" and "My grandma's voice always tellin' me/I'd understand when I was old."
"Those are very personal lyrics," admits Gloria. "It includes real moments of looking back on my life growing up. The record as a whole is nostalgic for the sounds that have come out of Miami over the years, but brought up to date with Pharrell's keen sense of who he is and what he wants to do.
Miss Little Havana also shows another side of the notoriously shy Estefan, as she explores her sexuality on songs like "Say Ay," with its cumbia feel and lyrics like "What the hell is going on/What's been takin' so long/That's the reason for this song/I'm here we're gonna get it on." And while the lyrics may have started out talking about "dance and music, accordions and trombones," they quickly turned into a sensual come-on in the studio.
"I'm just super-comfortable in my own skin," she says. "It feels completely natural for me. It's a maturity that comes with experience. Pharrell really wanted to focus on my tone, which goes a long way towards getting that kind of feeling. There are not that many female singers with a deep contralto voice like mine. He really wanted to emphasize that aspect. Sure enough, when I sang in the key, it added something, a richness, a little more of a slow burn, a smoldering feeling. Pharrell makes very sexy music. And I wanted the lyrics to fit that."
Gloria Estefan's accomplishments transcend the music and entertainment business. She's a humanitarian—her Gloria Estefan Foundation promotes good health, education and cultural and she's helped raise more than $40 million with Miami Project to Cure Paralysis, creating the world's largest and most comprehensive spinal cord injury research facility in the Lois Pope LIFE Center—and a best-selling children's author, with two books based on the life and adventures of Noelle, inspired by and named after her real-life beloved English bulldog. She's also the first Cuban-American to become a minority share-holder in an NFL franchise, with a stake in her hometown Miami Dolphins. Earlier this year, Estefan received Billboard's Spirit of Hope Award for philanthropic work with her Foundation.
Aside from her family— son Nayib, daughter Emily Marie and her husband of 33 years, Emilio—music remains Gloria Estefan's passion, her true love, and Miss Little Havana marks a welcome return to her Latin dance-floor, club roots, updated for a new generation by Pharrell Williams.
"The most beautiful thing my fans have allowed me to do is evolve," she says. "They've been there for me and listened every step of the way. And what I owe them is to be true to who I am and what I care about as an artist. We've never tried to chase radio play or hits. To try to create something different from what's out there is a tough thing to do. For me, that's why it was so cool to work with Pharrell. We have a new baby, but it's still the Gloria Estefan they have known. And hopefully, we'll surprise them a little bit, too."
Miss Little Havana is for her fans, those oprimidos—the common working class people who toil all week just so they can hit the dance floors and lose their inhibitions, much like a young Gloria Estefan did more than 35 years ago, when she stepped on-stage to sing with future husband Emilio's band at a wedding, and 52 years since leaving Cuba with her family in 1960 when she was eighteen months old.
"You know how hard it is to come up with something that's new and fresh musically?," she asks. "All music is a fusion of something. There are only a certain number of notes in the scale. We were lucky enough to break through once. Music has always been my love, and I've always treated it as a catharsis. It continues to be that, so it's exciting when I do something my kids think is cool."
Miss Little Havana herself has grown up to become an international Latin music icon, and her latest album shows she's still growing, a tribute to those "who work all day, then dance all night" to this soundtrack of a lifetime.
"Everything you live and you do/Becomes a part of you, so/You'll get back what you spread around." "Time is Ticking"