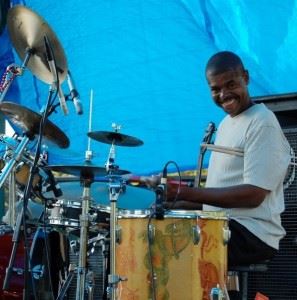 Before we get into the actual post I wanted to provide some background information and context about Johnny Gilmore for readers who may not be familiar with him. Here's a link to a news article concerning his tragic passing last week.
Also you can find out more information about Johnny on his newly setup website www.johnnygilmore.com and information about donating to the family and benefit concerts on the Johnny Gilmore Memorial Page on Facebook. There was an incredible memorial concert held last evening which I had every intention of attending, my automobile had other plans. But in talking to some of the organizers and a few of the attendees I understand that it was a success and an honor benefitting such a great musician and person.
When a tragedy like this occurs it often alerts us to the precarious nature of life that is often the lot of the professional touring musician. Tragedies like these should serve as a clarion call to all of us: musicians and lover's of music that as a society we can and should concern ourselves with the role of the "true artist" in our society and more specifically the totality of their well-being.
Now a few words about an incredible musician. Thanks to the Grown Folks family for allowing me this space to speak.
Last Friday morning I awoke to receive some very sad news about the passing of Johnny Gilmore: Drummer and Human Being extraordinaire. Drummer extraordinaire because I, like many others consider Johnny among the greatest to ever sit behind a set of drums. Human Being extraordinaire because of the joy and love that he brought to family, friends and honestly anyone he came into contact with.
I knew of Johnny for a while before I actually met him. It was one of those things where you hear of someone's musical reputation only to have it confirmed a million times over once you actually meet them. One of the first times I actually met Johnny was while I was in high school and he had heard about a band that myself and a few classmates had put together. This was the late 1980's and in Charlottesville, VA like many other hamlets along the Route 29 corridor south of D.C. Go-Go music was king. We had heard about Johnny practicing Go-Go over on West St. (we heard cassette tapes as well) and about Johnny sometimes playing that Go-Go beat on a tune down at Miller's. So it really made a big impression on me that this guy who I heard all these fantastic things about as a musician, took time out of his schedule to come hear a little band that my friends and I put together for our school's talent show.
Johnny was very encouraging and of course spot on with his critique of the performance and I never forgot that. At that time in my life I had no idea how that act of kindness would influence my career choices just a few short years later
Over the next year or so while I was still in high school I would see Johnny from time to time in passing and I even had the opportunity to sit in with him and some of my friends on a jazz gig here and there. Again, he was always encouraging even though in my estimation I wasn't necessarily playing jazz, it was more like the idea of jazz. Speaking of which, as far as I know there really is not a style of music that I know of that Johnny Gilmore could not play and I mean play well. In the course of a night I have seen him go from Tony Williams to Bernard Purdie to Carly Barrett. Actually, what I meant to say is that I've seen him do that within the course of a song. His ability to have a command of so many diverse styles of music spoke not only to his openess as a musician but it is also reflected in the numbers of lives he touched from every strata of society.
During the mid-90's I had the opportunity to play with Johnny on a pretty frequent basis in numerous musical lineups around Charlottesville and even on a few memorable road trips. It was also at this time that I became involved with the Music Resource Center in Charlottesville. For those of you not acquainted with The Music Resource Center it is an afterschool and in the summer music program where students between 7th and 12th grades can learn how to write, record, and produce music as well as rehearse. Johnny was not only an early musician supporter of the center but he also had several nieces and nephews who were longtime members of the center. It was a joy for me to have such a gifted musician in the space and I was taken back in time as I watched him mentor one of his nephew's bands as he did mine only a half decade or so prior.
It was at this time that I got to know Johnny on a much more personal level and it always brought a smile to my face when I heard his nieces and nephews talk about "Uncle Johnny" and his world-famous fishcakes. I was also amazed to find out at this time that we had traveled in similar circles in our musical development and he shared a story that I often go back to where he was playing a church gig as a twelve-year-old and the organist asked him if he was "afraid to play." I always found this story hilarious on many levels because for one when I met Johnny and heard him play that would be the furthest thing from mine or anyone's mind and two I knew the organist he was talking about and I had been in a similar position.
But the main reason that I continue to go back to that story is that when we were having that discussion it all finally made sense to me. I now understood, at least on a very basic level why he was always so kind and encouraging to aspiring musicians. He was here to define for many of us what "paying it forward" really meant. That phrase was not something Johnny Gilmore gave lip service to he lived it. I could not be any more serious when I say that he is a hero of mine. Here's a guy who was from my hometown who played all over the world and he started out wearing that orange and black marching band uniform just like I and many others did.
I have nothing but fond memories of playing on gigs with Gilmore. I tell people to this day he is the only drummer that I know who could keep exact time while eating an entree. I'm very serious when I say that. Just the joy he brought to the music and his musicianship was infectious. I learned very quickly that if I didn't bring some semblance of an A game to the gig I would get left in the dust very quickly.
Johnny's knowledge of music was encyclopedic. Some may know that I'm a huge Stevie Wonder fan but when Johnny Gilmore would talk about Stevie's music I would simply sit and listen. Everyone who has spent any time with Johnny has a Johnny story. My favorite story is actually not a gig story but one that Johnny told me about when he was in school in Boston at the Berklee College of Music. It seems that a certain Ms. Lalah Hathaway(I'm a huge fan of hers as well) was a student at the same time. Johnny used to tell me that he would flash that famous smile and put an extra helping on the tray while he was doing work-study when Ms. Hathaway would come through his line. Classic!
Johnny, I, like so many others whose lives you've touched are really going to miss you. I don't think that I've ever heard a better description of what Johnny Gilmore could do with a set of drums than what Jamal Millner [virtuoso guitarist and frequent Gilmore collaborator and most importantly friend] told me on a gig once: " He can do trigonometry with the time and rhythm on the drums". Johnny I know that your life will and should serve as an example for the importance of music and musicians in all our lives. Whatever community you live in wherever you are in the world please support these musicians! Musicians like Johnny Gilmore are a gift to all of us. A gift like Johnny cannot be packaged. It can't be scaled you have to go and experience it for yourself and that gift should be acknowledged always. When we used to get together to do some "all star" shows there were always a couple of guys on the stage that I always made a point to acknowledge as "legends". I could not have been more sincere than when I said it and could not be any more sincere than now when I say "Ladies and gentlemen let's give the drummer some! The one and only Johnny Gilmore!" Rest in peace brother!
Ivan Orr is a multi-instrumentalist, composer, performer, and writer. A native of Charlottesville, Virginia Ivan was involved with the forming and nascent days of The Music Resource Center as its first Program Director. A graduate of Virginia Commonwealth University's Department of Music, Ivan currently resides in Richmond, VA where he maintains an active performance and production schedule while serving as the Music Editor for Grown Folks Music, a position he has held since 2010.