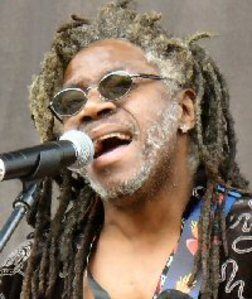 I know some of my elders keep telling me that it is a sign of growing up or getting older but… these libraries keep closing and I really hope that we understand the impact and the void that is being created.
I just wanted to take a few lines to pay tribute to one of the Supreme Funkateers of All-Time Garry Shider. Often known as "Diaperman" for his P-Funk concert attire, Garry was a Guitarist/Singer/Composer extraordinaire. The list of his contributions to the P-Funk Nation and music in general goes on and on, literally. The fact that he served as musical director for P-Funk years and years should speak volumes.
I had the pleasure to meet Garry actually twice in about a two-year span, once when the P-Funk Allstars were playing a gig at a club downstairs from a afterschool music program that I used to work at and the band was gracious enough to come and say hello to the kids. The second meeting that I had with Garry Shider made an indelible impression on me as a musician. The band I was playing in was performing at a music conference and it just so happened that we were slated to perform right before Garry and a few of the original members of the P-Funk mob were to perform a tribute to Jerome "Bigfoot" Brailey.
What happened next I probably will never forget… As soon as we cleared the stage and were in the audience Garry comes on the stage and asks if anyone has a guitar that they wouldn't mind letting him use for the set. A very nice audience member hands Garry his strat and about 15 secs. after that Garry and company launch into one of the baddest versions of "One Nation Under A Groove" that I have ever heard in my life. It was pretty clear from listening to Garry sing and play that I was listening to a huge ingredient of the epoxy that helped mold the P-Funk sound. I am grateful for having that experience and to have been in the presence of a musician that great.
RIP, Garry Shider, gone but never forgotten!
For more info please visit

Ivan Orr is a multi-instrumentalist, composer, performer, and writer. A native of Charlottesville, Virginia Ivan was involved with the forming and nascent days of The Music Resource Center as its first Program Director. A graduate of Virginia Commonwealth University's Department of Music, Ivan currently resides in Richmond, VA where he maintains an active performance and production schedule while serving as the Music Editor for Grown Folks Music, a position he has held since 2010.