The hit holiday musical, Black Nativity: A Gospel Christmas Musical Experience features all-star cast members Q Parker [Grammy Award-winning and multi-platinum recording group, 112], Latrice Pace [Stellar and Grammy-nominated gospel group, The Anointed Pace Sisters], Zebulon Ellis [runner up, Sunday Best All Stars], Terry Burrell [original cast member from Dreamgirls], and gospel singer, Lawrence Flowers [hit song "More"].
During a media tele-conference, Latrice Pace, Zebulon Ellis and Q Parker spoke about the production that each of them have been involved with for the past four years. They explained what gave them the desire to be a part of the musical, what Black Nativity contributes to the culture, how they pay homage to Langston Hughes' original work and what might surprise audiences that come to see the play.
Black Nativity will run from November 30 – December 9th, 2018 at the Ferst Center, in Atlanta, GA and at the Bell Auditorium in Augusta, GA on December 15th and the Macon City Auditorium, in Macon, GA on December 22nd. See show dates below.
Why Black Nativity
Zebulon Ellis: When I first went to Black Nativity I was was around 10 years old… for years I was in awe of what they were doing on stage.  For me, its a bit of nostalgia because I remember watching the show. It's the same thing as when I was at Morehouse College. My father used to take me to see the glee club. They used to take me to all of these different shows and it made me want to be a part of something bigger than me. It made me want to be on stage doing that. So, now that I can be on this stage doing it exactly what I saw them doing, it's a bit of nostalgia for me. That's what makes it kind of special to me.
Latrice Pace: It's like the end-of-the-year production for me. It reminds me why I have done everything I've done all year long. It's because of Christ that he afforded me to be able to do the things that I do… and to get paid to do it… to actually make a living doing it. It's sort of like my end-of-the-year offering back to him, 'Thank you! I'm reconnecting with you. You created me to worship.' It's an actual worship experience. Even though it's work, it's not labor because we leave encouraged and inspired every night.
Q Parker: I've always wanted to be a part of the Black Nativity production. I think that is one of my favorite productions. Even when they did the movie, it has always been a favorite of mine. I too am like Latrice. When I look at all that I've been able to accomplish throughout the year, being a part of this production just puts me in the right place to center myself, gather my thoughts on everything that has happened and also to prepare me spiritually and mentally for the upcoming year, Also, to be a part of a equally talented cast. Sometimes, the talent may be a little lopsided. What I love about the Black Nativity cast is from top to bottom the talent is just so, so plentiful and so solid.
I will also chime in on something Zebulon said. One year I couldn't do it. I had to sit in the stands and just watch the cast put on an amazing performance. I just vowed to my entire team, 'I don't care what I'm doing at the end of the year, always block my schedule so that I can be a part of Black Nativity.'
Last and finally, when you see the effect of the people that come into the auditorium and into the theater  and the way the leave out– that right there is the reward. I we can help usher in the holiday season and the spirit and the idea of love to families all across our city and even when we're travel in over states. To know that we've been a part of in some cases the first feeling of the holiday season. We start this at the beginning of the month (December) so for a lot of those… especially those who come to the early shows… Black Nativity Atlanta production is the first issuing of the holiday season. So, it's always dope to be a part of that also.
Black Nativity and its Importance in and for the Culture
Latrice Pace: I actually feel like it's an important piece  simply because of the message of Christ. As it relates to our culture– in our culture Christ has always been our hope in everything we that have faced from the time of slavery until now and we're still enduring injustices. That's why it's important to me, because it's a message of hope through Christ.
Zebulon Ellis: For me it's just a spiritual background. In the culture of the African American church it's definitely a big thing. However, Christ being the center of that. Not just church, but from a spiritual background I think that it enlightens that. It's a story of love. It's a story of hope for every family– whatever their relationship is with Christ [and] whatever their relationship is with hope. It's a story of family. It's a story of bringing us together. I think it's necessary for our culture– especially with African Americans and especially with what we're facing now with politics. It's another thing to bring us together. It's important for the culture for these reasons and for our spiritual center.<
Paying homage to Langston Hughes
Latrice Pace: By honoring and reverencing what has always been written and not feeling like because I'm creative, it's gonna be better than what he has already written. We can embellish a little bit with the songs and with many of our lines, but the director pretty much makes it known, 'Hey, do it as written. It's perfect already. You can add your little creative spurts here and there, but don't make it something that it was never intended to be.'
Zebulon Ellis: The greatest thing about Langston Hughes is he calls for the creative of everyone's spirit to come out. So, it doesn't matter what person plays the character. It doesn't matter what person plays any kind of role in it. He calls the creative spirit out of each person. Because the cast changes slightly every year it just calls for that person. Ron [Connor, the show's director] kind of does a great job of casting the right person for the right role.  Him and Keith Wilson choose the right person for the right song. That's how you honor anyone who has creating anything. The way you honor them is to make sure that the right person is doing it. They do it in the right spirit and they go within to find the right way to express what it is they're trying to express to that audience. That's just the way I think we can honor Langston Hughes and what he's called us to convey on stage.
Q Parker: The best way to pay homage to anything that has come before you is to live it in its truest form. I think we've done a great job of that. The creators… Ronald Connor and Keith Wilson… as Latrice said, they make sure that we keep it as authentic as possible with a little bit of being able to live in it a little bit, but making sure that the true essence of Black Nativity is displayed.
Expect the Unexpected
Zebulon Ellis: [laughs] The dancing. I promise you it's gonna be the dancing. I think you won't get a full cast doing as much in any other play as you will in Black Nativity. You have a lot of that going on on Broadway, but coming from what this is and where this comes from… the story of it… you just won't get a lot of this. So it's going to surprise people to see even a big guy like me getting up there and moving the way I'm gonna move.
Latrice Pace: I would agree. I would have to say the dancing as well as the singing. The show is cast basically because we have to have very strong singers, but I think people would be surprised of the voices coming out of the bodies that will be represented there. Sometimes it's unbelievable. Like, "Wow. That person sang that, and all of you were able to be consistently strong throughout the show?" I think it's going to be the singing and dancing– and to be able to sing and dance at the same time.
Zebulon Ellis:  It's a colorful piece. There is action moving the entire show. But, it's not just the action of what happens on stage, it's how the audience sits on the edge of their seats and joins in with what's going on on stage… whether they know the song or not… whether they know the dance or not. [It's something] that everybody can participate in, even in the crowd.
People come looking to be entertained and to experience a show. You will leave entertained, but you will also leave encouraged and inspired and not really thinking that you're going to get ministered to through something like that. It's an experience. You actually end up participating in the show and not just spectating.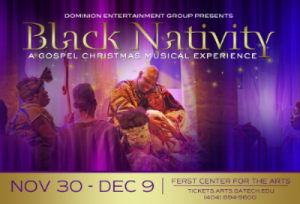 Due to the high demand for tickets, the newly renovated Ferst Center for the Arts located on the campus of Georgia Tech will be the new home for the Atlanta performances of this soul-stirring Gospel adaptation of Langston Hughes' original Broadway song-play that will be a joyful experience for the entire family.
Presented by Dominion Entertainment Group under the direction of Robert John Connor, with musical direction by Keith Wilson and choreography by Dawn Axam, this powerful rendition of the Christmas Story will be told through dance, powerful worship songs, and toe-tapping gospel numbers. A testament to the power of gospel music, the story of the Nativity is told through the combination of scripture, poetry, dance and song that connects a contemporary church revival to the time of the birth of Christ.
As a special added bonus, this year the Black Nativity Soundtrack, featuring 13 songs from the live stage production and performances by your favorite cast members, and the DVD of the performance will be for sale. The Black Nativity Soundtrack will be available online as well as at every performance so that audience members can take the holiday spirit home with them. A unique aspect of the Dominion's Black Nativity is that it offers "My Church Night", where churches have the opportunity to host a performance and feature their own praise & worship teams and chorales on stage as part of the production! Atlanta churches interested in being included in the performance are encouraged to send an email with a video of your praise team/chorales performance to info@dominionent.org
Atlanta, GA Ferst Center for the Arts, 349 Ferst Dr NW, Atlanta, GA 30332.
Fri., November 30 @ 8pm
Sat., December 1 @ 2pm
Sat., December 1 @ 8pm
Sun., December 2 @ 3pm
Fri., December 7 @ 8pm
Sat., December 8 @ 2pm
Sat., December 8 @ 8pm
​Sun., December 9 @ 3pm
Augusta, GA
December 15 @ 7pm, Bell Auditorium.
Macon, GA
December 22, @ 7pm, Macon City Auditorium.
Dominion Entertainment Group is An Arts and entertainment organization founded by Robert Connor. Its mission is to provide high quality Arts and entertainment to the global arts community.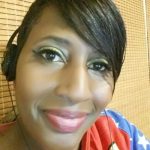 I ask questions of your some of your favorite artists.