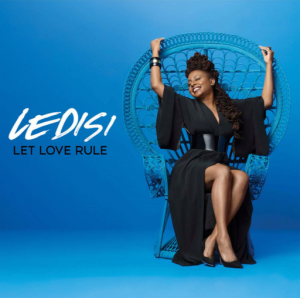 Grown Folks Music talked with Ledisi about her new album Let Love Rule— out NOW, how her tour with Kirk Franklin bridges the gap and welcomes all people and she gave us a fun answer to the question: What is grown folks music? Read below and enjoy.
GFM: You said that you went into this album not knowing exactly what you wanted to do, which was different for you.  In taking this approach to the album… this sort of blank slate approach… was there anything that came out in the creative process that surprised you or revealed some more layers or another side of you to yourself?
Ledisi: After working with different producers, different songwriters, [and] different people, towards the end I ended up going back to the beginning and finding jewels that I already started like the song "Here". That was a surprise to remind myself that I'm a good songwriter. Working with different producers was fun too… different songwriters and producers. I allowed myself to just walk into a room not knowing anything about anybody [but] just still being myself.  I work well with others which was really cool. I already knew that, but I didn't wanna record this time and when I did I challenged myself to just go ahead and do and see what happens. I didn't think too heavily.  I just let it feel… see how the room moved naturally. I didn't know I could accomplish more things that way. So, that was really cool… not having a plan… just going with the flow of things.
Empowering Voices That Ignite
GFM: I'm intrigued by the features on the album– particularly Soledad O'Brien and Iyanla Vanzant. Talk about how they got involved.
Ledisi: Well, I called a bunch of wonderful women that have empowered my life from afar and up close and asked them if they would answer some questions for me because I always had a vision of how I wanted the album to go once I knew what songs would be there. I knew what I wanted image wise because of going to museums and things like that. I knew I wanted a more artistic approach on this album. I just didn't know what themes would be.  But, I wanted women to speak throughout it that have inspired me kind of like my book Better Than Alright— where I have all the ancestors throughout my book speaking words that have inspired me. I wanted that on the project Let Love Rule. Soledad is just a voice that we all know. Iyanla [is] a voice we all know. These are voices that ignite others to be empowered. So, I had to have that seaming throughout the whole project. Iyanla is a big mentor of mine.  Her voice just really… she opens the whole album. When they speak, they speak clear, direct and forward… forward thinking. I love having them on there. And what they say… I just don't want to give that away. I think people should buy the album and listen to that.
GFM: I was gonna mention something about that, but we'll keep that.
Ledisi: Yes, let them have that surprise. How do you get powerful women to support other powerful women? That's how you do it. That's another way– supporting the project. My mom is on there too a little bit, but I won't give that away either [laughs].
Bridging the Gap on Tour
GFM: Our motto here at Grown Folks Music is "Bridging The Gap". You're going on tour with Kirk Franklin. Talk about how the tour seemingly bridges a certain gap and the meaning behind the name of the tour.
Ledisi: If you are a big fan of mine, you would know that I'm always sitting in the middle of music where I bridge the gap between old school and new school together. That's just something I've always done so it made sense. This whole The Rebel, The Soul, and The Saint [tour] shouldn't surprise anyone if you're a fan of mine. I've always liked blending things. So my manager said, 'Hey I want you and Kirk Franklin to go on tour together.' I said, 'Well I don't want to be this regular old thing where we go on tour [like], look we're opening, we're closing… whatever.' I wanted a theme. I wanted a reason. I wanted to bring people together. We need music. We need things that feel good for people to make all people come no matter who you are and I wanted that. Kirk, his music resignates with R&B as well as gospel. [It's the] same with PJ Morton. His fans are mixed. [It's the] same with my fans. They like everything. I'm mostly R&B, but I still uplift. I really had to think of a name and The Rebel, The Soul and The Saint came up. Not particularly because the saint means that's Kirk. You don't know who's the saint. You don't know who's the rebel and who's the soul. I think we all of those things– the rebel, the soul and the saint. We rebel in music. We rebel in being traditional. We make our own lanes… all of us… each artist that you see on the tour. So, it just worked perfectly. The theme is perfect for a person who feels that way. All people can come in and enjoy the show together. It's not a gospel show. It's gonna be a show– that's it. That's bridging the gap.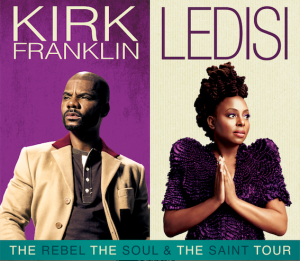 GFM: What is your definition of Grown Folks Music?
Ledisi: I don't have a meaning for that, but I can tell you a visual for it. You put on a record and you just dance in the middle of the room. you don't care who's watching, [or] who's looking. You have no reservations about anything. You're just into the music and dancing right there as it hits you– like a Marvin Gaye move or somethin', you know? That's grown to me. I just visually see my parents. They'd put on that vinyl and it's a wrap. You're supposed to be cooking us food, but they just stopped everything. We're just gonna dance right here. That feels good to me. When you say grown folks music– that's the visual I have. I don't have a meaning. I don't have a definition of that. I just get a visual. That's all I can say about that, because to me, I think everybody has their own version of what that is for them. For me, it's my parents stopping everything just to dance to this one song. I mean until it's finished. Then, they go back [like] 'Okay, let's finish the dinner [laughs].' It's out of nowhere too. [It's] always Marvin Gaye, Earth Wind and Fire or a really good Luther [Vandross] song. That's a wrap. I'm like, 'Really? We gotta wait [laughs] ?' You know Luther songs are almost five minutes. You've got a long intro [laughs]. As a kid you're thinking, 'Come on, Man.' [But] they're dancing and hugging on each other. That's the visual I can give you.
Let Love Rule Is Out NOW
Connect with Ledisi On Facebook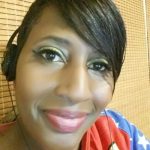 I ask questions of your some of your favorite artists.