Here is the EPK for the new Esperanza Spalding project available August 17th, 2010. What I love about Esperanza is that she proves to me that creating great music has nothing to do with age or era. Creating great music has everything to do with your personal commitment and respect for music. You can only reach this level of musicianship with a lot of dedication to learning your craft, exposure to all types of music and an attitude that is open.
From Concord Records:
"Centuries ago, long before the advent of radio or recording technology, chamber music was the music for the masses – the music in which people from nearly every segment of society could find meaning and relevance. A decade into the 21st century, Esperanza Spalding – the bassist, vocalist and composer who first appeared on the jazz scene in 2008 – takes a contemporary approach to this once universal form of entertainment with Chamber Music Society .
Backed by drummer Terri Lyne Carrington and pianist Leo Genovese – and inspired by the classical training of her younger years – Esperanza creates a modern chamber music group that combines the spontaneity and intrigue of improvisation with sweet and angular string trio arrangements. The result is a sound that weaves the innovative elements of jazz, folk and world music into the enduring foundations of classical music.
"So much of my early musical experience was spent playing chamber music on the violin, and it's a form of music that I've always loved," says Esperanza. "I was very inspired by a lot of classical music, and chamber music in particular. I'm intrigued by the concept of intimate works that can be played and experienced among friends in an intimate setting. So I decided to create my version of contemporary chamber music, and add one more voice to that rich history."
Chamber Music Society is a place where connoisseurs of classical music and jazz devotees – and fans of other musics as well – can find common ground. The recording offers a chamber music for modern times – one that brings together people of different perspectives and broadens their cultural experience, just as it did in an earlier age.
Esperanza first took the world by storm in 2008 with her self-titled debut recording that spent more than 70 weeks on the Billboard Contemporary Jazz Chart. Two years later, she continues to push the boundaries of jazz and explore the places where it intersects with other genres. Co-produced by Esperanza and Gil Goldstein, Chamber Music Society surrounds Esperanza with a diverse assembly of musicians. At the core are pianist Leo Genovese, drummer Terri Lyne Carrington and percussionist Quintino Cinalli. The string trio is comprised of violinist Entcho Todorov, violist Lois Martin, cellist David Eggar and Gretchen Parlato on voice. The great Milton Nascimento also makes a guest appearance on one track.
This is the work of a brilliant young musical talent who isn't afraid to challenge the limits of jazz and its relationship to other forms of musical expression. Chamber Music Society is the first of two current Esperanza projects. Radio Music Society , set for release in the spring of 2011, features an exciting new repertoire of funk, hip-hop, and rock elements fused into songs that are free from genre. "I'm confident that this music will touch people," she says of Chamber Music Society. "We all want to hear sincerity and originality in music, and anyone can recognize and appreciate when love and truth are transmitted through art. No matter what else has or hasn't been achieved on this recording, those things are definitely a part of this music. Those are the things I really want to deliver."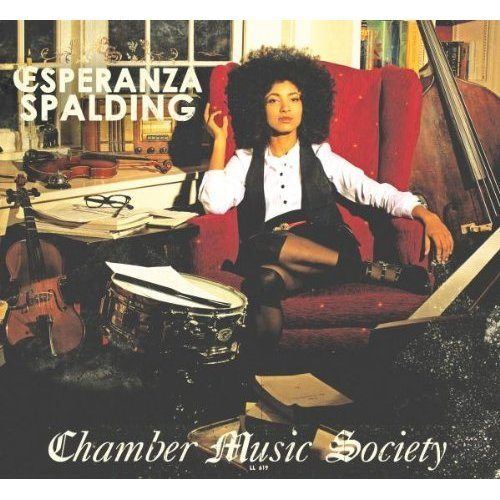 Track Listing:
1. Little Fly
2. Knowledge of Good and Evil
3. Really Very Small
4. Chacarera
5. Wild Is The Wind
6. Apple Blossom
7. As a Sprout
8. What a Friend
9. Winter Sun
10. Inútil Paisagem
11. Short And Sweet
You can hear a preview of the songs by clicking this link.

Ivan Orr is a multi-instrumentalist, composer, performer, and writer. A native of Charlottesville, Virginia Ivan was involved with the forming and nascent days of The Music Resource Center as its first Program Director. A graduate of Virginia Commonwealth University's Department of Music, Ivan currently resides in Richmond, VA where he maintains an active performance and production schedule while serving as the Music Editor for Grown Folks Music, a position he has held since 2010.