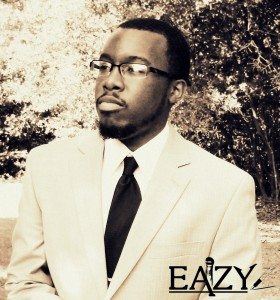 Great new music from a GA based GFM fave Eazy… "Round N' Round" produced by Petey Jakes is from Eazy's upcoming free project Moonlighter's Mindstate.
If you like your Hip Hop with a smooth flow, subject matter that has substance and an MC who understands and utilizing the full power of words, Eazy should def be on your playlist.
"Round N' Round" (prod. by Petey Jakes) by Eazylittle
From the press release
Living is the truest art form there is – it's God-given from birth. Therefore, life is the greatest canvas ever given to anyone, and it's up to you to paint it vividly. Eazy, born "Emmanuel Little", looks to give the listener glimpses of his life through lyrics. In his own words, "I feel like everyone has a compelling story to tell, but it's too many artists out there who aren't telling it – rather, they're presenting to you a story they think you want to hear. I feel like reality is always more interesting than fiction, so this is me, 100% non-fabricated, unadulterated, uncut, raw, and pure."
As the son of two ministers, Eazy grew up in Macon , Georgia immersed in southern Black church culture. This background permeates through the soul of his songs as he raps about his own personal struggles – whether it be professionally, financially, or even spiritually. During his years as a college student, he developed a penchant for writing lyrics, starting with poetry and slowly gaining more of a hip-hop influence seemingly with each line. This poetic
foundation is evident not only in the style of his verses but also in the spoken word interludes that captivate listeners. Music is often the best form of
catharsis, and Eazy definitely puts the beats to good use as he pours his soul out for the world to feel. As he says in one of his early songs, he's "not professional yet, not cuttin' no checks, so really this is just a confessional". Indeed, it's about the love for the music and the relief it brings. Having been influenced by the likes of such soul artists as Sam Cooke, Gil Scott-Heron and Erykah Badu, and also by hip-hop acts such as Goodie Mob, Outkast, and Common, it's no surprise that he often takes the form of a griot narrating a real-life tale through music – resulting in an intensely relatable experience. No matter what, Eazy plans on making sure you remember every word.

Ivan Orr is a multi-instrumentalist, composer, performer, and writer. A native of Charlottesville, Virginia Ivan was involved with the forming and nascent days of The Music Resource Center as its first Program Director. A graduate of Virginia Commonwealth University's Department of Music, Ivan currently resides in Richmond, VA where he maintains an active performance and production schedule while serving as the Music Editor for Grown Folks Music, a position he has held since 2010.