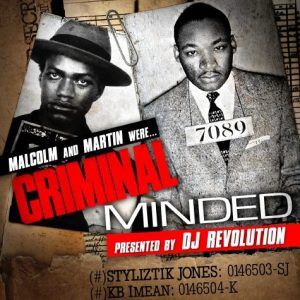 Criminal Minded is one of my favorite albums of all time and a true hip hop classic. Fast forward to 2010 and DJ Revolution (currently of MOTM fame) have put their own twist on it. Check it out and see how it moves you.
And if you've never really listened to the classic original Criminal Minded, here's your chance.
DJ Revolution presents Malcolm & Martin's latest mixtape "Malcolm and Martin were…Criminal Minded", a 2010 re-work of the seminal album released by BDP in 1987. Politically charged, powerful lyrics over hard classic beats infused with Revolution's production and signature cuts create a gritty soundscape sure to wake sleeping hip hop fans. This is a follow up to their funk inspired debut mixtape"Movement Music" and a lead in to the forthcoming album DJ Revolution Presents Malcolm and Martin "Life Doesn't Frighten Me", will be released on 2-1-2011 on SoulSpazm Records..

Encouraged by the iconic men who fought for the every man during a different time using different tools, the trio reverentially took on the moniker Malcolm & Martin as a siren call announcing new leaders armed with new tools to fight for modern-day liberation."
Hit the jump to download and checkout the tracklist.

DL Link to Malcolm and Martin's "Malcolm and Martin were…Criminal Minded": http://malcolmandmartin.bandcamp.com/
For More Information Please Visit:
http://twitter.com/malcolmnmartin

Ivan Orr is a multi-instrumentalist, composer, performer, and writer. A native of Charlottesville, Virginia Ivan was involved with the forming and nascent days of The Music Resource Center as its first Program Director. A graduate of Virginia Commonwealth University's Department of Music, Ivan currently resides in Richmond, VA where he maintains an active performance and production schedule while serving as the Music Editor for Grown Folks Music, a position he has held since 2010.