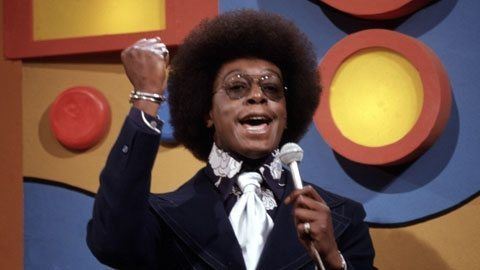 Here's a biggin' that you sho' nuff' will be diggin' from friend to GFM DJ Polished Solid a tribute to the one and only Don Cornelius!

From the show notes…
(September 27, 1936 – February 1, 2012)
This is the first mix of two in tribute to Don Cornelius. My childhood was filled with many hours of dutifully watching Soul Train, ironically, the soul train line being the centerpiece for me and not the guest artists. This week we are keeping it in the groove, and next week we'll return to No Turn Unstoned's usual eclectic format. It goes without saying that for both sets the theme is SOUL of course.
There are four soul train themes in this mix:
1973-1975′s TSOP (The Sound of Philadelphia), composed by Gamble and Huff and recorded by
Philadelphia soul studio group M.F.S.B. with vocals by the Three Degrees.
1975-1976′s Soul Train '75 by The Soul Train Gang
1976-1978′s Soul Train '76 (Get on Board), also by The Soul Train Gang
1980-1983′s Up on Soul Train by The Whispers
Check out the playlist after the jump.
Soul Train '75 – The Soul Train Gang – My Cherie Amour – [Unidisc]
Soul Sacrifice – Santana – The Best of Carlos Santana – [Columbia]
Soul Samba – The Earthquakers – Jazz Toys – [Perfect Toy Records]
Funky Soul Brother – The Grits – The Grits – [Freestyle Records]
Up On Soul Train – The Whispers – Imagination – [Solar]
Soul Makossa – Rod Hunter – Soul Makossa – [Decca]
Don't Chain My Soul – Carlton Basco – Movements 2 – [Perfect Toy Records]
Soul Finger – The Bar-Kays – Greetings from Memphis – [American Beat]
Soul Safari – Lew Hanson & The Islanders – Movements – [Perfect Toy Records]
Sisters Of Soul, Brothers Of Funk (Greg Wilson Version) – 6ix Toys – Sisters Of Soul, Brothers Of Funk (Greg Wilson Version) EP – [First Word Records]
Soul Makossa – Manu Dibango – Crooklyn: Music From The Motion Picture (Volume 2) – [MCA]
TSOP (The Sound Of Philadelphia) – M.F.S.B. – Tube Tunes Volume One The '70s – [Rhino]
Soul Freedom – Ray And His Court – Soulfreedom – [Jazzman Records]
Soul Brothers Testify Part 2 – Chester Randle's Soul Sender's – Soul Brother's Testify – [Anla Records]
Soul Kitchen – The Doors – The Doors – [Elektra]
Memphis Soul Stew – King Curtis – Atlantic 60th: Smokin' Soul Picnic – [Rhino Atlantic]
Soul Brother Never Be Another – Andrés – II – [Mahogani Music]
Soul Train Gang (T.V. Version) – The Soul Train Gang – My Cherie Amour – [Unidisc]
Getcho Soul Togetha (Part Two) – Breakstra – Peanut Butter Wolf's Jukebox 45s – [Stones Throw]
Keeper of My Soul – Yesterdays New Quintet – Angles Without Edges – [Stones Throw]
Szegerely Soul Stew – 3 Mustaphas 3 – Play Musty For Me – [Omnium]
Funky Soul Pt 1 – David Batiste & The Gladiators – Strange Breaks & Mr. Thing – [BBE]
Soul Investigators Theme – Nicole Willis & The Soul Investigators – Keep Reachin' Up – [Light in the Attic Records]
Soul Power – James Brown – Star Time – [Polydor]
Soul Vaccination – Tower of Power – The Very Best of Tower of Power: The Warner Years – [Warner Bros.]
People Get Up And Drive Your Funky Soul – James Brown – Slaughter's Big Rip-Off – [Polydor]
Bold Soul Sister, Bold Soul Brother – Black On White Affair – Wheedle's Groove – Seattle's Finest in Funk & Soul 1965-75 – [Light In The Attic Records]
Soul Safari – Speedometer – Diggin Deeper – [Freestyle]
A Little Taste Of Soul – Sugar Pie DeSanto – James Brown's Original Funky Divas – [Polygram]
Super Soul Sister – Heatwave – Too Hot To Handle – [Epic Records]
California Soul (A Cappella) – Marlena Shaw & Diplo – California Soul (Remixed) EP – [Verve]
Soul II Soul – Radio Spots From The Blaxploitation Movie Era – Super Bad, Super Black Can Ya'll Dig That? – [Waste Management Music]
Sweet Soul Music – Ike & Tina Turner – What You Hear Is What You Get – Live At Carnegie Hall – [United Artists Records]
Soul Meeting – Ray Charles & Milt Jackson – Pure Genius: The Complete Atlantic Recordings 1952-1959 – [Atlantic Records]
Searching For Soul (Pt. 1) – Jake Wade & The Soulsearchers – Strange Breaks & Mr. Thing II – [BBE]
Soul Brother 45 – Boca 45 – Vertigo Sounds – [B-Block Music]
Soul Kiss – Dizzy Gillespie – Where Are You Going/The Real Thing – [Collectables]
Thunder Soul – Kashmere Stage Band – Texas Thunder Soul 1968-1974 – [Now Again Records]
Soul Samba – Attilio "Anthony" Donadio – Easy Tempo Volume 3: Further Cinematic Easy Listening Experiences – [Easy Tempo]
Soul Bossa Nova – Quincy Jones & His Orchestra – The Musical Biography of Quincy Jones: Gone Hollywood – [Rhino]
Soulville – Aretha Franklin – Unforgettable: A Tribute To Dinah Washington – [Sony]
Soul Sauce (Guacha Guaro) – Cal Tjader – Cocktail Mix 2: Martini Madness – [Rhino]
Soul Flower (1970) – Quincy Jones – In The Heat Of The Night – They Call Me Mr. Tibbs! – [Rykodisc]
California Soul – Tamba 4 – California Soul – [A&M Records]
Introducing…The Quantic Soul Orchestra – The Quantic Soul Orchestra – Pushin On – [Tru Thoughts]