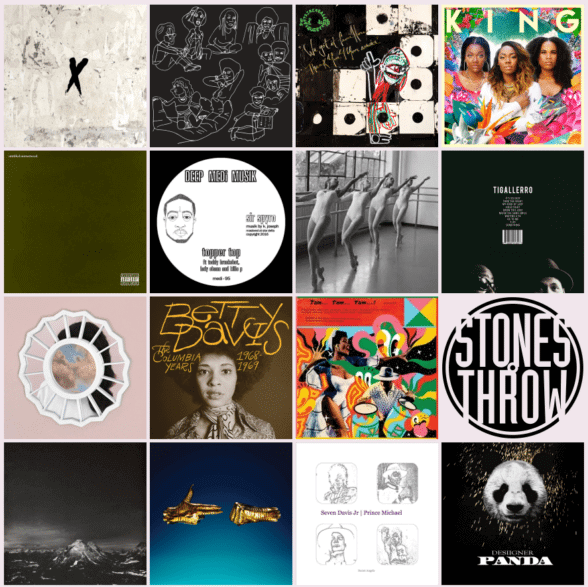 This is the 2nd mix of our best of 2016 series of mixes, the Best Songs of 2016. I guarantee you there will be some songs in here that you haven't heard so don't dismiss the music of 2016 too soon. The Best Albums of 2016 (No Turn Unstoned #276) preceded this mix, and the Best Remixes and the Originals of the Remixes will follow. On No Turn Unstoned, we genre hop so if you don't like a certain genre during the mix, trust me, the genre will change soon enough.
<iframe width="100%" height="120″ src="https://www.mixcloud.com/widget/iframe/?feed=https%3A%2F%2Fwww.mixcloud.com%2Fnoturnunstoned%2Fbest-songs-of-2016-no-turn-unstoned-277%2F&hide_cover=1&light=1" frameborder="0″></iframe>
Dr. Killpatient – Jacob 2-2 & Pivovar – Men & Cats
Copacabana – Swindle – Connecta EP
Fever – Zed Bias – Driftin
Driftin (feat. Zoe Violet) – Zed Bias – Driftin
Mãos à Obra (feat. Moses Boyd) – Sonzeira – Tam Tam Tam Reimagined
Down (feat. Joi) – Run The Jewels – Run the Jewels 3
Topper Top featuring Teddy Bruckshot,Lady Chann,Killa P – Sir Spyro – Topper Top
Panda – Desiigner – Panda – Single
Lemon Trees (feat. Double E) – Swindle – Funk and Grime – EP
Spyro da Dragon – Loonz – Now That's What I Call Grime – EP
Go Back (feat. JME) – C4 – Grime 2016
Works Haffi Run (Instrumental) – Swindle – Funk and Grime – EP
Man – Skepta – Konnichiwa
Inga Gani – Mala – Mirrors
Off the Chain – Distro – FABRICLIVE 88: Flava D
Bleeding – Flava D – FABRICLIVE 88: Flava D
One by One – Pangaea – In Drum Play
Prince Michael – Seven Davis Jr – Prince Michael
Stream – Jacob 2-2 & Pivovar – Men & Cats
OK Villa – Kevin Over – OK Villa
Nail (Skit) – Jameszoo – Fool
Zenker Haze Trak – Skee Mask – Shred
Formation – Beyoncé – Lemonade
Talk to Me – Jordan Rakei – Cloak
No Reservations – Oddisee – Alwasta
CHEETA2 ms800 – Aphex Twin – Cheetah EP
Void (feat. Leonardo Safari & Fortebowie) – Denzel Curry – 32 Zel / Planet Shrooms
5472616E736C7563656E74 – Useless – HEXA
Who Loves You? – Romare – Who Loves You?
Don't Play Games – Nite-Funk – Nite-Funk
Talking (Bleep) – Homeboy Sandman – Kindness for Weakness
Black Man in America – André Cymone – Black Man in America
Butterflies – Andy Stott – Too Many Voices
untitled 03 l 05.28.2013. features vocals by Bilal, Anna Wise, Thundercat and Terrace Martin. – Kendrick Lamar – untitled unmastered.
Cranes In The Sky – Solange – A Seat At The Table
Mister Chameleon – KING – We Are KING
Kids… feat. Andre 3000 – A Tribe Called Quest – We got it from Here… Thank You 4 Your service
Rich & Dan – Letherette – Last Night On The Planet
Politician Man – Betty Davis – The Columbia Years 1968-1969
Zenith feat. Joey Bada$$ – Denzel Curry – Imperial
Rich Soul – Avelino – F.Y.O
Dos Puertas (feat. Kevin Hussein) – Machinedrum – Dos Puertas
Just a Memory (feat. Jermaine Holmes & Cleo Sample) – Kendra Foster – Kendra Foster
Invisible Crescent New Moon – Rucyl – Caveat
Rise – Solange – A Seat At The Table
Khadijah – NxWorries – Yes Lawd!
Hold Tight – Phonte & Eric Roberson – Tigallerro
Congratulations (feat. Bilal) – MAC MILLER – The Divine Feminine
Hydrant – Jimmy Edgar – Dreamz Come True – EP
Water Fall (Interluuube) – Anderson .Paak – Malibu
Ivan Orr is a multi-instrumentalist, composer, performer, and writer. A native of Charlottesville, Virginia Ivan was involved with the forming and nascent days of The Music Resource Center as its first Program Director. A graduate of Virginia Commonwealth University's Department of Music, Ivan currently resides in Richmond, VA where he maintains an active performance and production schedule while serving as the Music Editor for Grown Folks Music, a position he has held since 2010.