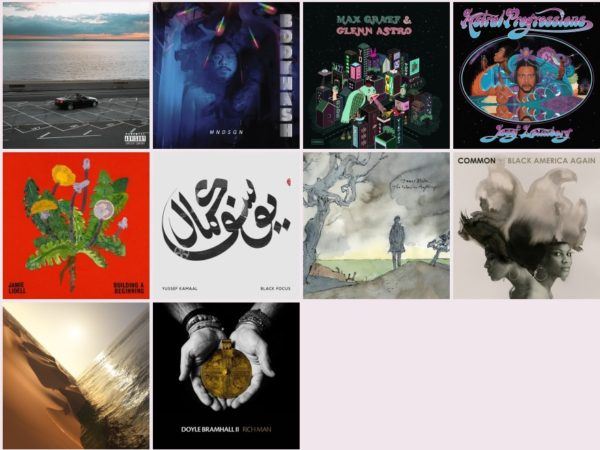 Superfriend to GFM has done it again!!! Looking for that good, good from '16 it's right here.
Dig…
Play.fm embed code for

Best Albums of 2016 (No Turn Unstoned 276) by on play.fm
Peep the playlist after the break
Description:
We're getting our annual best of party started. The Best Albums will be the first of 4 shows. The Best Songs, Remixes, and the Originals of the Remixes will follow.
Tracklisting:
Ems – Mark Pritchard
Lather – Mndsgn
Modern Soul – James Blake
A Bigger Picture Called Free feat. Syd & Bilal – Common
Guess It's All Over – Mndsgn
Don't Let Me Let You Go – Jamie Lidell
Choose Me – James Blake
Hear My Train A Comin' – Doyle Bramhall II
Building A Beginning – Jamie Lidell
End – Steven Julien
I Need A Forest Fire Feat. Bon Iver – James Blake
Interstellar Universe Featuring Kamasi Washington – Josef Leimberg
Cries Of Ages – Doyle Bramhall II
Where Do They Go, The Butterflies – Mark Pritchard
Joy And Peace feat. Bilal – Common
Ya Own Way – Mndsgn
The Day Women Took Over feat. BJ The Chicago Kid – Common
Red Wine feat. Syd & Elena – Common
Echoes of One Featuring feat. Jimetta Rose and Miguel Atwood-Ferguson – Josef Leimberg
Astral Progressions feat. Kurupt – Josef Leimberg
Love Star feat. Marsha Ambrosius & PJ – Common
Rich Man – Doyle Bramhall II
Find It Hard To Say – Jamie Lidell
Walk Right Back – Jamie Lidell
Joint 17 – Yussef Kamaal
As I Think of You feat. Georgia Anne Muldrow and Miguel Atwood-Ferguson – Josef Leimberg
Two Men Down – James Blake
Between Us 2 feat. Bilal – Josef Leimberg
Where Ever U R – Mndsgn
Precious Years – Jamie Lidell
Keep You Dreamin' – Doyle Bramhall II
Flat Peter – Max Graef & Glenn Astro
Black Focus – Yussef Kamaal
Fallen – Steven Julien
I Hope My Life (1-800 Mix) – James Blake
The Samanas – Doyle Bramhall II
Falling – Mark Pritchard
Carousel – Steven Julien
Kingdom – Steven Julien
W313D – Max Graef & Glenn Astro
Marie – Steven Julien
Give it Your Choir (feat. Bibio) – Mark Pritchard
Lowrider – Yussef Kamaal
The Yard Work Simulator – Max Graef & Glenn Astro
Alluptoyou – Mndsgn
Sad Alron – Mark Pritchard
Viktor's Blues – Max Graef & Glenn Astro
Where The Fuck Are My Hard Boiled Eggs?! – Max Graef & Glenn Astro
The Colour In Anything – James Blake
Yo Chavez – Yussef Kamaal
Strings of Light – Yussef Kamaal