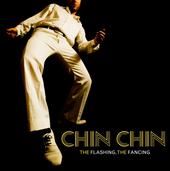 Chin Chin, coming straight outta Brooklyn with a self-described sound that is 21st Century Soul. Their latest album, The Flashing, The Fancing (Definitive Jux Records/2009), drops on 3/10.
Download the Go There With You EP
Check out their bio here, from AMG:
A versatile band that draws from funk and electronic dance as well as indie rock, Chin Chin emerged from the fertile Williamsburg scene in Brooklyn and, thanks to their live shows as well as their recordings, became an overnight favorite among critics. Formed in 2001 in Brooklyn, NY, Chin Chin at its core is a trio comprised of multi-instrumentalists Wilder Zoby (keyboards, vocals), Torbit Schwartz (drums, vocals), and Jeremy Wilms (guitar), who are joined in the studio and on-stage by a variety of session musicians from the Williamsburg scene, among them Marcus Farrar (vocals), Jesse Boykins III (vocals), James Kelly (guitar), Tada Hirano (guitar), Jeff Pierce (trumpet, flügelhorn), Felix Chen (trombone), Yusuke Yamamoto (vibraphone, percussion), and Yoshi Takemasa (percussion). The jazz-funk characteristics of Chin Chin, along with the band's composition — a visionary core directing a talented cast of session musicians who vary from one song to the next — lends itself well to Steely Dan comparisons.

Like Walter Becker and Donald Fagen, the three-man core of Chin Chin is studied and experienced, each having attended music school and worked in an assortment of prior professional situations. But the Steely Dan comparisons end there, for the musical style of Chin Chin is more greatly informed by funk (both the synth and disco strains), not to mention electronic dance music, than jazz or rock. After establishing themselves as an exceptional live band on the Williamsburg scene, Chin Chin made their recording debut in 2007 on the French label Dialect Recordings, releasing the 12″ singles Toot d'Amore (boasting Prins Thomas remixes) and Appetite (boasting Chicken Lips remixes) as well as a self-titled full-length album. In 2008 alternative rap label Definitive Jux released the band's full-length album, Chin Chin, in the United States to across-the-board critical praise.