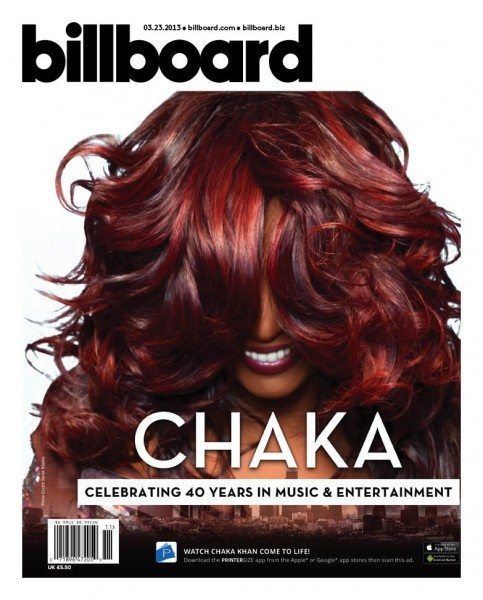 Nothing excites me more than seeing iconic artists reinventing themselves and cultivating their relevance through the medium of music and technology!! When I heard about Billboard Magazine's Star Tribute issue coming together with the 60th birthday of the ten-time GRAMMY® Award winning songstress, Chaka Khan, I couldn't contain myself. Now you may ask, "what's the big fuss?" Well, this issue is more than just a simple spread. It is the first issue published by Billboard Magazine that features "Augment Reality" through Printergize, a new and creative way of linking traditional print media with ones online marketing efforts. With this app you simply scan the target object and watch the content take on a life of its own. The awesome thing about this innovation is its utilization of mobile technology that engages the audience in a unique fashion.
Also, this mobile app will go directly to www.chakakhan.com, where fans will see Chaka introduce her 100 Days of Chaka campaign, which marks the 100 days from her birthday (March 23) to the anniversary of the release of her first recorded album with Rufus, Rufus (July 1, 1973) 40 years ago. This app will also highlight a timeline that will commemorate a series of historic moments in Chaka's career, mixed with celebratory current events. The 100 Days of Chaka culminates with the release of The iKhan Project: Alive! The Commemorative Edition, in stores July 2nd. This CD and DVD project will be recorded the same way Chaka recorded her first album. "I want to experience the magic I felt 40 years ago when I recorded my first record," says Chaka. "The thrill of recording with all the musicians in one room, the interaction with the producer and the spontaneous moments of the experience."
So don't miss out on this great mix of innovation and music engagement from Chaka Khan. The Billboard Magazine Star Tribute issue is now out on newsstands! Go check it out!

Hope is a music enthusiast and continual student of photography. Also known to rock out a quiet church or elevator with her current ringtone, Tom & Jerry's Uncle Paco, "Crambone".